Part 1 - Welcome to Ride America 2014.
The birth of the concept and the planning of the tour and its management.
April 2010.
"Planning and preparation are seldom wasted" (A Tester).
We are a group of New Zealanders - and the occasional Australian - who devised a plan to ride around North America in 2014. This would also co-incide with the 2014 BSA International Rally in Northern California which we would attend. All of us have had long associations with motorcycles, in particular, the offerings from BSA, Triumph and Norton in the 1970's, hence the BSA connection.
However, we are fond of any British Motorcycles of that era and the current. Not that there are many choices from the UK these days. Others among us own Italian and Japanese bikes, but the common thread is a love of touring and/or just enjoying exploring the planet on two wheels.
The notion of riding the vast distances of North America came along in a serendipitous fashion, and yet our numbers grew steadily since I first proposed the trip. Obviously it was an idea that had already been planted at some earlier stage for most of the potential crew.
Subsequently we found ourselves party to stories from those who had already visited parts of America on bikes, as well as numerous tv episodes devoted to the same theme. It seems ideas attract ideas.
One very important link was an American website entirely dedicated to keeping information and parts sources available to owners of Tridents and Rocket 3's, called "Triplesonline". I had been a member of this site for over 10 years, and was thus on a friendly basis with many similar minded motorcyclists all around the planet - but more to the point - in North America. Many of these guys gave a positive response to the notion of a visit from a group of marauding Kiwis on motorcycles, and offered various tips on roads to favour and roads to avoid.
This afforded me the reassurance of some loose form of support team on the ground in America, and the possibility of the occasional workshop with adequate tools for running repairs should we need. Perish the thought - but one needs to cover all the bases. The hard task was to decide what the bases might be.
Planning got underway from late 2010 inasmuch as deciding roughly where the trip might take us, who might be interested in going, what bikes we would ride, how we would incorporate the most fail-safe method of avoiding holdups such as breakdown or illness or injury. A rough map was assembled which included as many points of interest as it did local contacts. It looked like this..
West to East.


Each letter on the map represents a stopover of indeterminate length. I intended that apart from attending the rally at the completion of a circuit of North America, there would be no timetable as such - we would simply "wing it" depending on how much fun we might be having at any given stop with any given people. It was not until 2013 that the club organising the rally posted a definite date for the event, and it was actually to be held in early spring - rather than summer as we anticipated. This meant reworking our tour to incorporate the rally at the beginning rather than the end, hence the strange dogleg at the start of the route on this revised map. The second half of the map remained as it began..
East to West.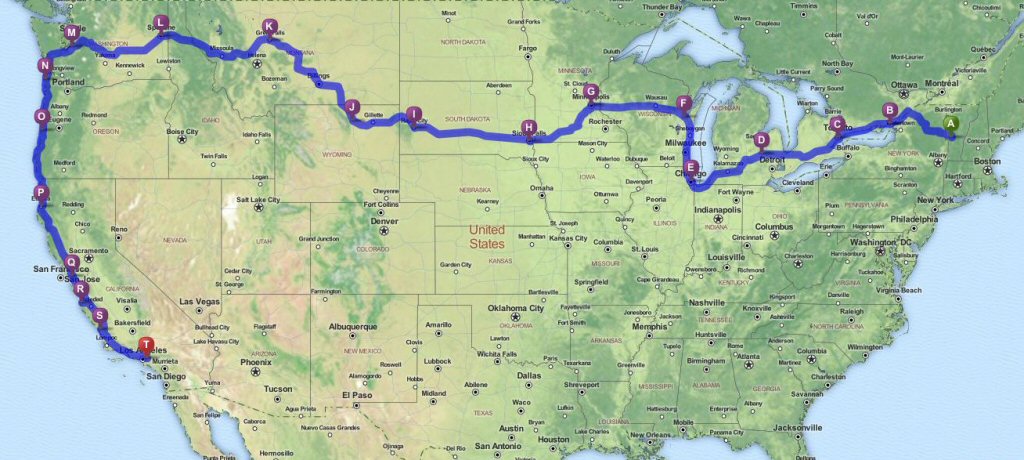 We would start and end in Los Angeles, so shipping of bikes would involve them taking the most direct and shortest route from New Zealand. The rally was being held in Petaluma, just north of San Francisco, and would last a week. Of our group of between 10 and 16, some could manage 2 months away, while others could take the whole 90 days that the visa would allow us to stay. If one required even longer, a trip to the American Embassy in Auckland was required, and one couple intended to do so, as they had friends in Colorado with whom they wanted to spend some time.
Being as it was a motorcycle tour, the main priority was to manage the bike part of the equation. It went like this.
Our preferred rides.
Here in New Zealand, many of our crew favour the British Triples from the 70's. This is the common denominator that has not only brought us together, but introduced us to so many other devotees in the USA and the UK. Here are a few of our bikes prior to a run in 2010.
Triples rule..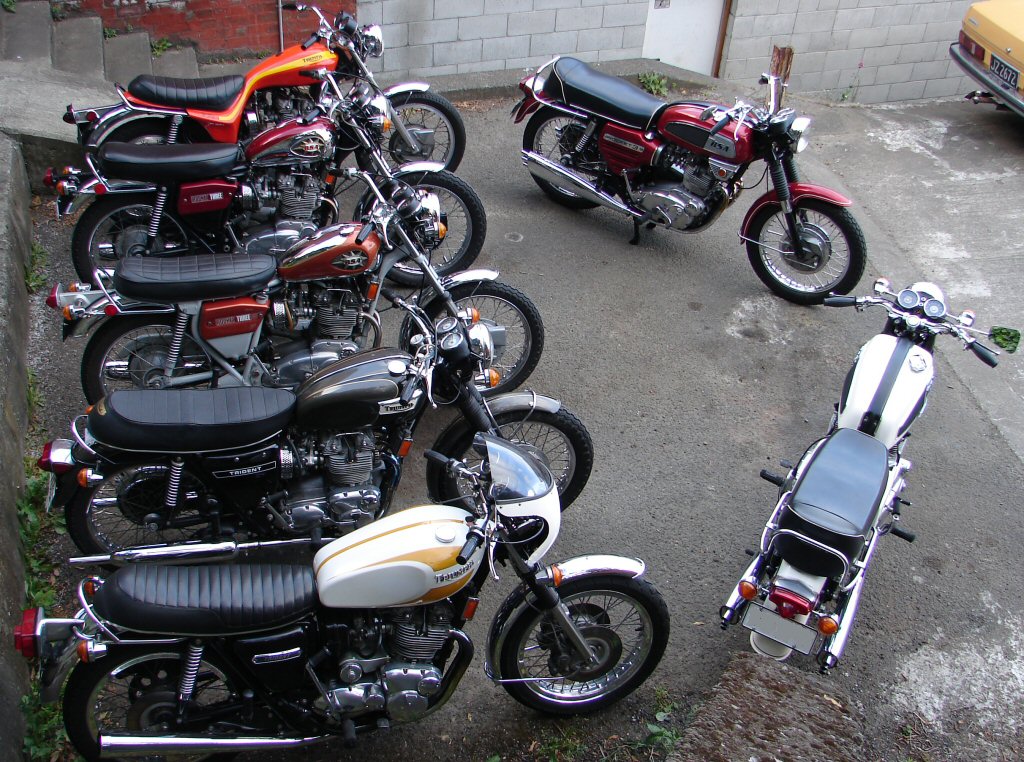 Hopefully you can see that these bikes are carefully prepared and maintained. Considering they are now 35 years or more since manufacture, they deserve to be. They also reward us with loads of pleasure, so the emotional attachment factor is quite high.
Originally, we thought we would ship some of these bikes to America, and do our trip on them. As we will be attending the BSA rally, they would be the perfect machines to roll up on. However - a number of things made me consider otherwise.
The risk factors.
Besides shipping, with inherent posibilities of delays or damage, there would also be some fairly extreme heat to contend with in the American mid-summer, and old air-cooled engines are averse to such. The distances we would be travelling would suggest that breakdowns are probable, replacement of some major parts almost inevitable. These bikes were not designed for the kind of service we now expect from our vehicles. Our intended tour will cover between 10 and 12 thousand miles, so how much time will be spent riding, and how much spent repairing at least one bike - which may delay many - is a critical part of the equation.
The cost factors.
Checking the costs involved with shipping, importing and exporting - as that is what we would be effectively doing - was another major player. We could buy bikes in America and sidestep all those issues. It may also cost less with all things considered. Personally, I would be in a constant state of anxiety about the safety of my bike. Having owned it for 36 years, I hope to enjoy it for many more - not risk its demise in one brief tour. It would also be nice to have another bike in America for future use...
The Pillion factors.
There will be quite a number of partners who choose the pillion seat for this trip. If you are not comfortable doing 85mph next to the spinning wheels of a large truck, then I would suggest that riding your own bike is not a wise move. Several months inhabiting a pillion seat is no small task, so the comfort afforded by modern suspension, and modern foam padding, is only one small facet of what post-2000 motorcycles have to offer. This tour is to be an enjoyable adventure - not an endurance test. We need to be smart rather than simply nostalgic.
Decision time.
A few of our number own modern triples. These also wear the Triumph badge, but do not owe much to our old models as far as design or parentage go. Time was harsh on the British motorcycle industry. Much credit to the Triumph Motorcycle Company of today that they have made a success of an up-to-date version. While they are now fuel-injected and liquid cooled, they are still triples, and as such, still make that fabulous sound we are addicted to. I had never paid much attention to these bikes, but now they have become the focus as the most acceptable steed to transport us over the vast distances of America.
Allan's Speed Triple was a revelation for me. Obviously not a long distance hauler, but the powerplant is extremely capable, and further research has shown that these motors have been achieving very high mileages without needing a lot of maintenance. There are service requirements for sure - but at much greater intervals than our old triples.
955i Speed Triple.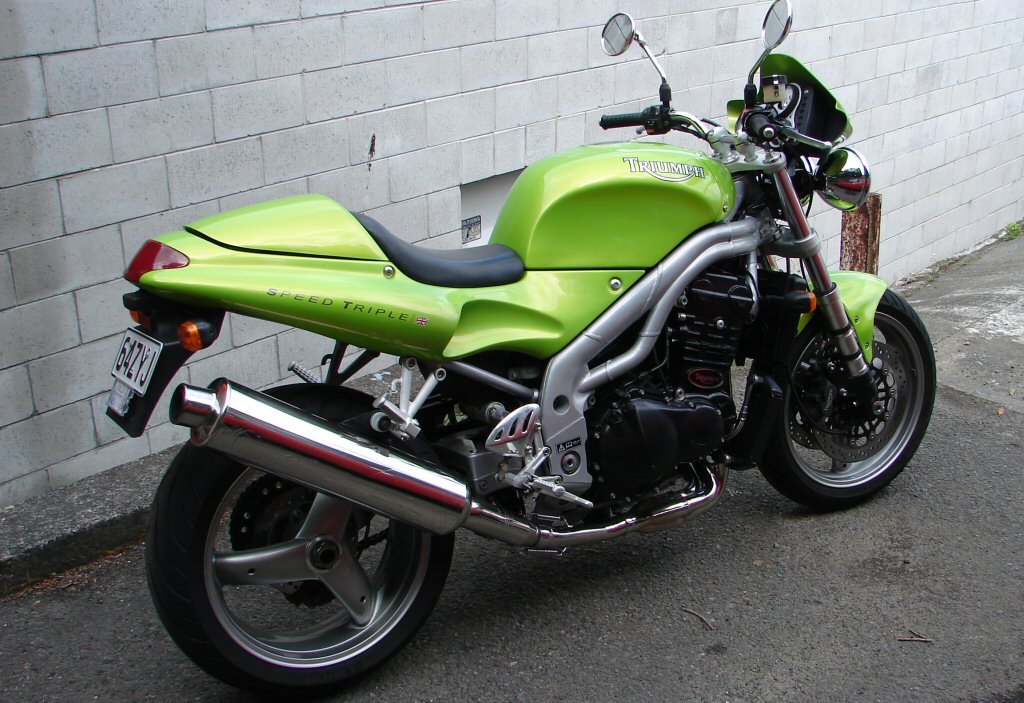 Yikes.! It transpires that there is a model called the 'Sprint'. A purposeful tourer no less. With the possibility of panniers and the occasional topbox. All this wrapped around the same power unit as the Speed Triple. Ideal.
A pair of 955i Sprint ST's.


Note the sensible seat layout. For long distance pillion work, a tiny sport-like seat perched above the rider is not as desirable from either comfort or handling perspectives. The topbox - while hardly aesthetically pleasing - makes a secure backrest for the pillion too. Obviously, finding bikes with these options would be important.
The model that superceded this - the 1050 Sprint, adopted a different seat which I would think less suitable. Besides placing the pillion up in the airstream, having the exhaust system underneath may lead to the occasional superheated buttock. In a return to the intention that this is a 'touring' model, Triumph reverted to a more uniform seat for the 2011 Sprint GT.
1050 Sprint left, Sprint GT right..


All things considered, I find the 955 to be my favourite. Sold between 2000 and 2004, they are now very affordable, and yet recent enough that spares supply should be ok. If we are able to mostly standardise our choice of model, then spares and mechanicals become a much more manageable task. I have obtained a workshop manual for this bike, and am getting familiar with the areas we are most likely to be attending.
Both the 1050 ST and the 1050 GT look to be more bulky, due to being slightly taller, and with wider panniers. Being later models they are also more expensive than the earlier 955's. Presumably they are still reliable touring units though.
One of the crew has gone a step further and bought a 955 ST. Mike rates it as a very capable tourer-cum-sports unit, and Ali gives the back seat her nod of approval. At this point in time, it is not clear how many of our group will be dedicated pillions. Some are intending to improve their skills in order to ride their own bike, others may share one. This is shaping up just great.!
Logistics of the tour.
To own a vehicle in America one requires a street address. One also needs insurance - which presumably would require same. It would be necessary for us to find a US resident who would allow us to use their address for this purpose. Perhaps one of the TOL guys would respond to an ask.
It seemed to me that some form of backup vehicle would be necessary. A breakdown would halt the entire tour, and entail some form of recovery process to get a bike to a repair facility - or to a friendly location where we could repair it. Even accidental damage could easily render a bike inoperable, and that could be a simple puncture, or dropping it in a carpark. If we were to devote precious months of holiday time to this tour, we needed to know that it would endure such incidents without major holdups. We would also have times where a vehicle may be necessary for transporting people, so a van with a trailer seemed the most attractive idea. Using a trailer would allow more flexible usage, and keep the size of the van to something that everyone could drive easily.
If everyone took turns at driving the van, and if our final number was - say 14, then each person would only need to drive one day in every two weeks. They would simply load their bike on the trailer and drive for the day. If it were a couple who were sharing one bike, then they would have 2 days driving every two weeks. As such a vehicle would be of equal use to all members, then the fairest solution would be that all persons shared an equal cost of buying van and trailer, and the cost of running it. This whole concept met with some opposition, but I did not see that we could do without it, and lobbied hard for its inclusion.
Some people were interested in shipping their bikes back to New Zealand after the tour. Some inquiries were made and a number of agencies were available in LA who were in the way of doing such things. It seemed that it might be quite managable, so this would cement LA as being our final port of call.
As all of the potential crew were happy to attend the BSA rally, it was deemed expedient for all to become members of the local BSA club to which half our number already belonged. This would make attendance at the rally a formality. I figured that having a week in the company of other local riders would be the perfect way of orientating ourselves to using the other side of the road, and any other road customs that we might be unaware of. Unfortunately, we would still have to ride our bikes from LA to San Fran providing the bikes were in LA to begin with. Many unknowns at this stage.
Accomodation would likely be motels, hotels and cabins - depending on what was commonly available. The camp being used for the rally in Petaluma did not seem to have much in the way of cabins from perusing their website, as it was obviously geared for RV's. We had heard that the economic recession had hit the RV market rather hard, and in fact we might obtain one quite cheaply as a backup vehicle. We followed this line of inquiry for a while. It was agreed that we would make an advance booking at a nearby motel for the duration of the rally.
As we would have no fixed itinerary after the rally, we would not book ahead - just decide on any day where we would go the next - so spot bookings would be the go. Some queries were posted to the American bikers, but they did not give us any clear indication as to whether this would work.
No single member of our crew had ever tried to ride a motorcycle nearly every day for several months. Perhaps we would get sick of it in a few weeks let alone a few months. Pillion passengers may just find it too uncomfortable to endure day after day on roads that could be straight and featureless. No way of knowing. Once again - a van would allow some relief for tired bodies. I decided that if possible, we should only ride two days out of three. Doing a rough approximation of the distance involved, suggested that we would need to average 200 miles per day in order to get the 2 month crew around the block and back to their departure point, so this would mean 300 miles per day for two days to earn a day off. Sounded feasible.
Communication between a large crew would be very critical. We would need local cellphones, and we would need a network with coverage right around America. AT&T sounded like the likely choice. Some folk had internet devices that would be useful for making bookings, checking weather, map reading and GPS. I would take a netbook and write a daily blog so that families and friends could follow our progress and know we were all ok. All these devices would need to be robust enough to survive life in a pannier.
These issues were identified as some of the most important logistical factors that we needed to address. As we were purely in the planning stage, no immediate action was required - but solutions would need to be found. The stage was being set.
The Crew.
By late 2013 we had a definite group for the tour. 14 bods in all. We would require 10 motorcycles. 4 Women would be pillions - 3 with their partners, and 1 who would take a pillion with whichever riders were agreeable. Andy had been instrumental in putting many of us together, but died of a brain tumour only months after the BSA International Rally in Christchurch in February 2010. It was the meeting of overseas riders at this rally that led to the idea of Ride America 2014. Andy's widow Di would join us for half the tour and leave from Boston. Several riders were happy to accommodate Di as pillion as they were solo riders with partners who were riding their own bikes. The final lineup looked like this..
Hiya. I'm Kilroy. I've owned this Trident for 38 years now. What a bike. What a connection. When I meet other owners of old British bikes, I find we have a lot in common. This intrigues me. What is the common denominator that makes old British bike owners similar regardless of which country they grew up in.? I decided in 2010 when I first considered this trip that I would invite many of my old and new riding companions to join me. Partly because they were the best people you could possibly have on such an adventure - but also because I knew that with many minds working on bringing it into being, it could not fail. We would plan to meet up with other old British bike owners in America - chances are they would be like us - and we would all live happily ever after...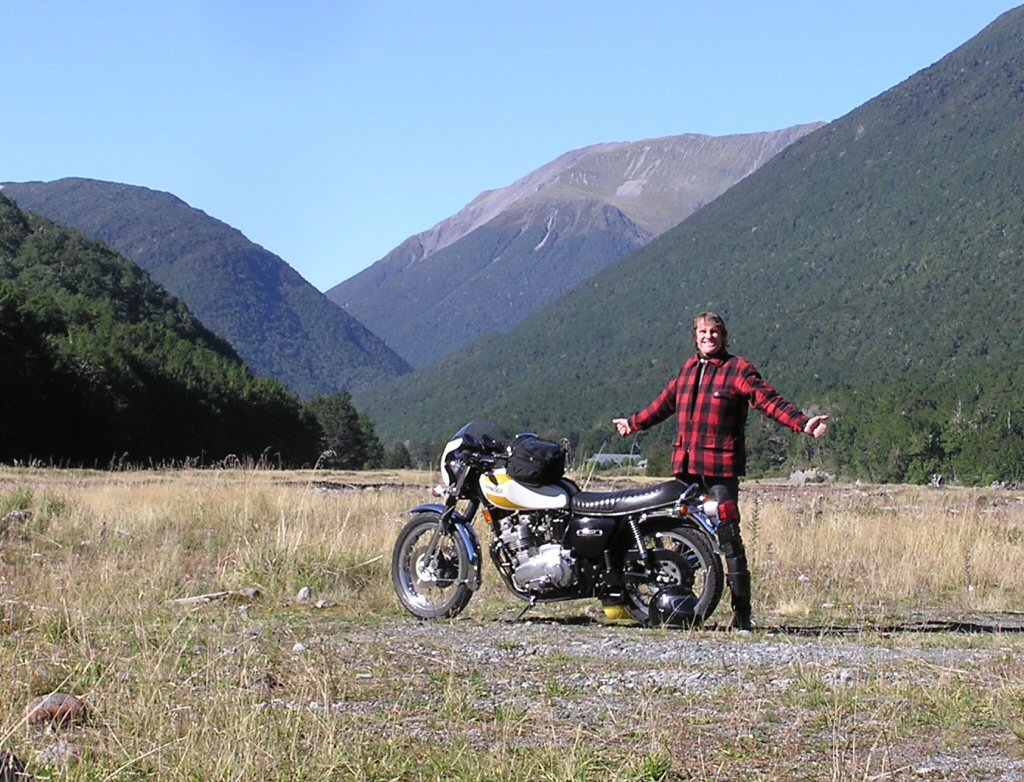 Sue took this photo in the Lewis Pass, South Island of New Zealand. These are the wide open spaces in New Zealand. I know America will provide scenes that totally eclipse this, and my expansive gesture was completely with that in mind. Bring it on.!
This is Sue - also known as 'Red' in some biking circles. She is a dedicated pillion, and just loves cornering fast, or when we get into a race with some other bike. She had a learner bike and was intending to ride in America, but studying for her degree defeated that plan. America will be a back seat tour for her.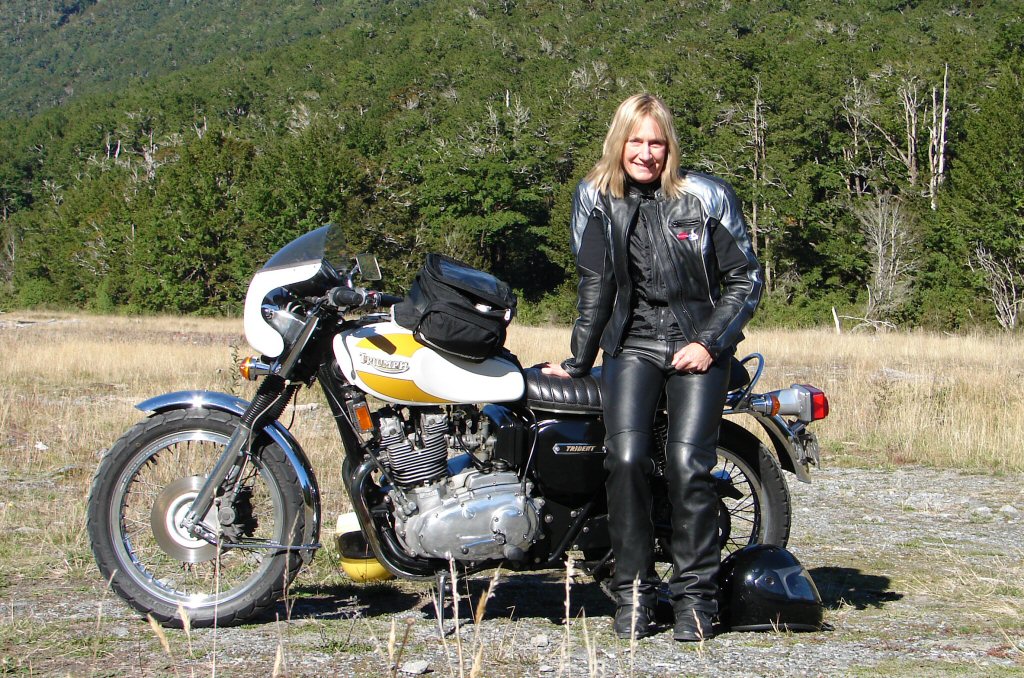 Allan (centre) and Beth. I met these guys through Andy - I suspect that it was part of his purpose to get us all acquainted. Andy owned a pristine BSA Rocket 3, and as Allan has a penchant for the same flavour, they quickly became friends. Beth impressed me immediately by having ridden Rocket 3's and a Norton Commando, neither machines being the usual choice for a woman. This photo was taken on one of the Canterbury Triples Runs, and Beth was riding the Triumph Hurricane in the shot. America will bow to her prowess. Allan has been around BSA's for many decades, and also owns the 955 Speed Triple that made my choice of rides in America favour the Sprint with the same engine. These guys will be up to any challenge.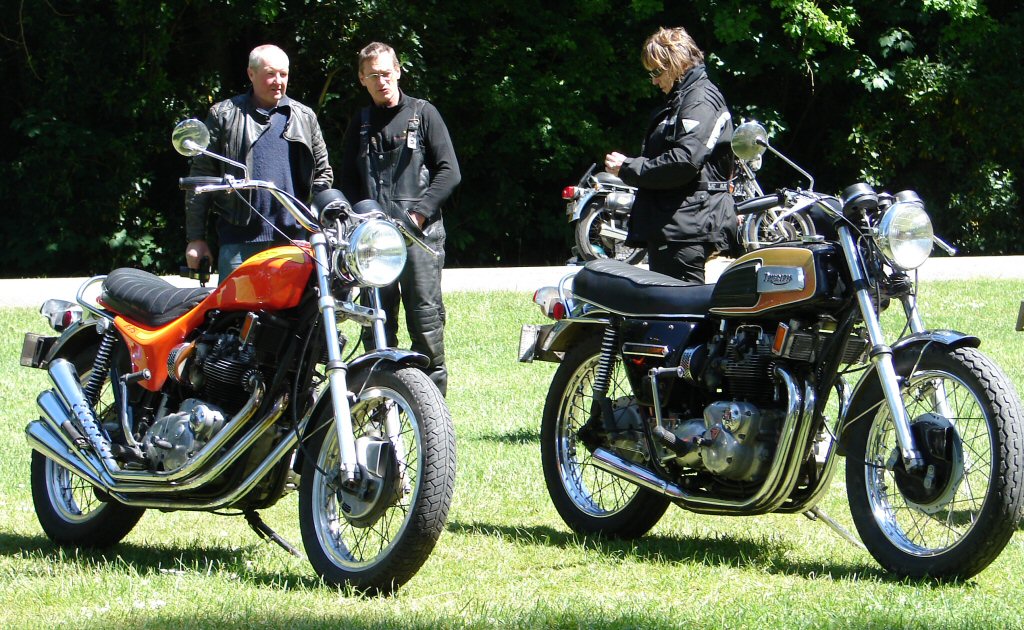 Thomas and Marian. Stalwarts of the BSA club in Canterbury, these guys were also introduced to us by Andy. I think he set us all up. But so nicely. Thomas has a number of British bikes, including a BSA A10 that he has owned for over 50 years. That's something. He also has A Triumph Bonneville, so he is not entirely one-eyed about BSA's. Marian rides a Suzuki known as the Best Suzuki Around. They have attended many International rallies and are on the committee of the local BSA club, so will be of great value in knowledge and organisational skills. Excellent people to socialise with, and we do often. We six share weekends and many rides together. The hard core.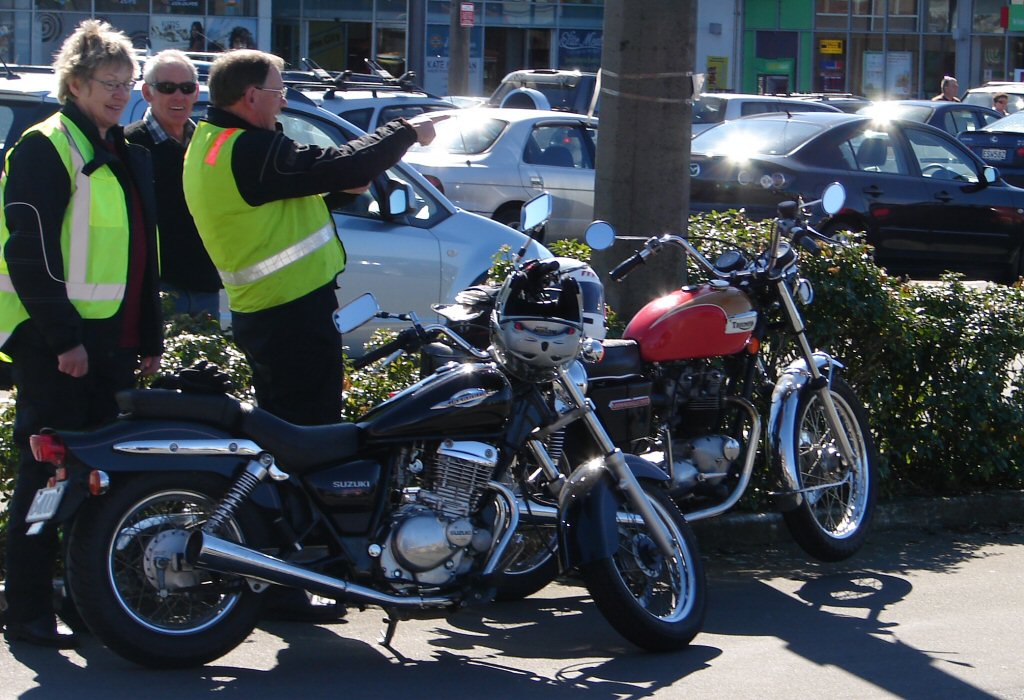 I mentioned Andy. He was a special person who loved triples. Thats a breed of bike - not a sexual innuendo. I would dearly love to hear his laugh at these words right now. Di is his significant other, and this photo was taken during the 2010 BSA International Rally when Andy's appearance had been much changed by his chemotherapy. I had the pleasure of riding his bike with him on the back this day, and it was probably his last ride. Although he has left the building, we will carry his memory across America with us - and Di as well. Di is a dedicated pillion, and we will find her a spare seat whenever possible. Her presence on the trip is very significant and she understands how much of his spirit will be with us too. For me - this helped cement my decision to make the 2014 BSA International Rally an integral part of our trip. All is as it should be.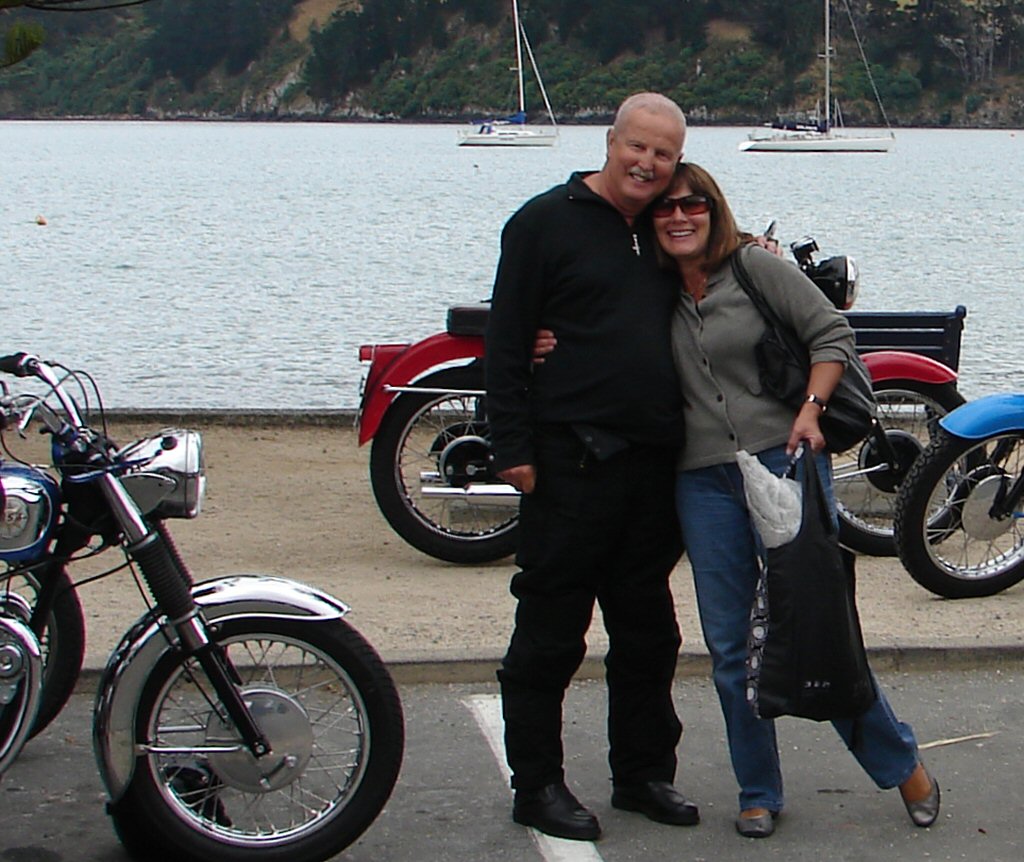 Brent and Ann. These folk resided in Lyttelton near us. Very near until the earthquakes reduced our respective dwellings to risk factors. How sad that our old lifestyle was destroyed. How brave that we now face new lives. Pictured here during a Vespa tour of Umbria in Italy, these two have been putting in some serious miles on their bikes to prepare for America. Ann has been borrowing Red's Honda 250 to skill up for her licence, and will ride her own bike in America. It is a bold move for a novice, but she is a bold woman. Brent and I used to take early morning weekend rides around the place before the world got messed up. While these guys are yet to meet many of the other crew, I feel sure that we will all blend well.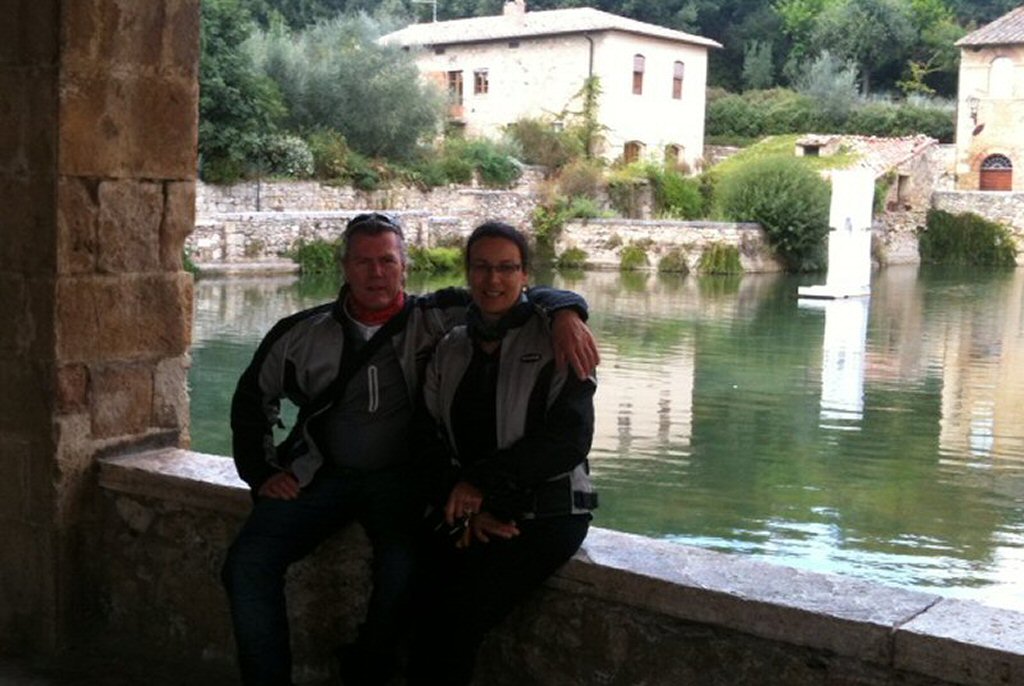 I met Gary through Allan, as they live in the same town and as motorcyclists have ridden together often - especially since Gary acquired a Rocket 3. The triple bug bit him and he also owns a Trident like ours now. An attendee of Triples Runs and the BSA Rally, I have also gotten to ride with Gary a bit. He seems very much at home on his triples, and has some serious touring miles under his belt. His partner will not be coming due to health issues, so Gary may have to abbreviate his tour. He is an easy person to get along with and this is always a great talent. We may all get on each other's nerves a bit over 3 months.!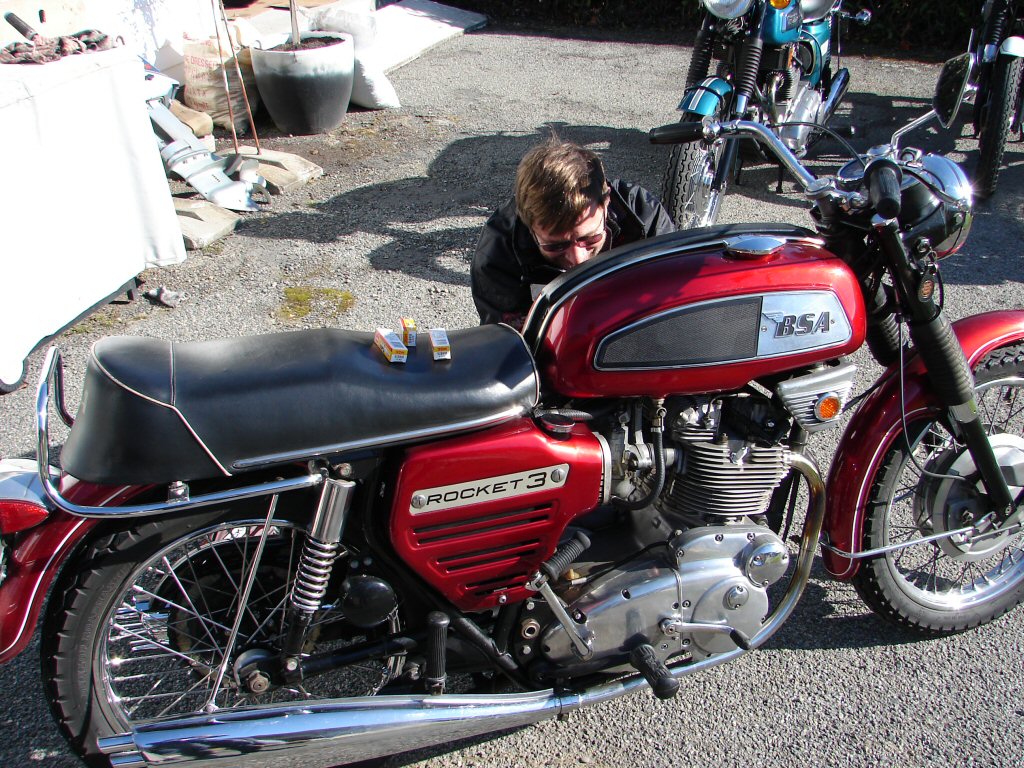 Tom and Helen. Former residents of Lyttelton, I used to work for these two in various roles along the way, and we shared some storage space. I used to work on Tom's Triumph Hurricane before it was sold to Allan - so we are all tied together in various motorcycle ways, even though we have not shared a lot of time. They still own a Harley and were probably tempted to ride one in America, but agreed to go along with the main plan so we would be able to economise on spares and be a cohesive group. Good team spirit. They were included at a late stage in the game having been hyped up by talking to Ann and Brent, so we have history.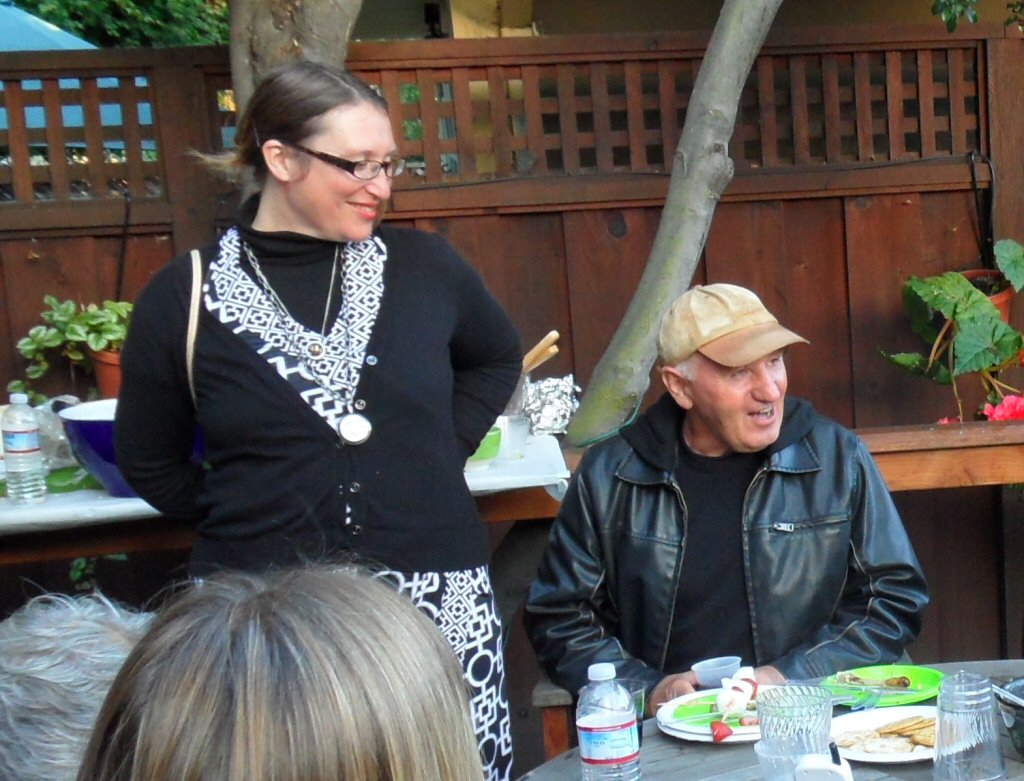 Steve and Andi. While motorcycling through the years, I have met up with Steve many a time. We go back a really long way - yet we have spent precious little time together - but when we do, amazing things happen. Although you can't see the detail, Steve was towing my bike with his in the heading photo on these pages. We are the two shadows top left. We did not see each other for 29 years after that trip, and when we next met out on the highway - he had to tow me again. It was not so much a problem, as an experience. He and partner Andi live in Perth, and have already ridden a bike in America - albeit briefly - when they ventured south of the border during a trip to Canada. We always enjoy their company, and Steve has many miles of two-wheeling up his sleeve. Andi will be his pillion, so in good hands. Although Steve just views it as 'co-incidence', cool things will happen because we are there together.. haha.
New Allies.
During my quest for knowledge about all things related to bike ownership in America, I asked several questions of John French in LA. John is a regular contributor on Triplesonline and speaks with the authority that reeks of knowledge. He had also attended a Triples Run in Australia and another potential member of the crew had met him there, so I felt I knew him by proxy. John was not only kind enough to answer my questions, but also offered the use of his postal address to help facilitate our legal needs for such. This was a major hurdle overcome in one blow. During 2013 in an email he said "I think we should start buying bikes early next year". I was overjoyed at his use of the word "we" - and said as much. John was currently a self-employed Ducati mechanic, so he knew about more than just old triples.
During our mechanations of applying to attend the BSA Rally, a chap from San Fran contacted our club and offered his assistance with rally matters. Brent Lenehan was an Australian living in California, so he seemed slightly familiar - as did his sense of humour. I asked somewhat cheekily if his help might run to checking out the occasional motorcycle for us, and told him what we were up to. He agreed - so that was another huge plus. My perusing of "Craigslist" in California to find potential bikes had yielded rather skimpy results in the LA area, so it seemed we might need to broaden the search. Brent had suddenly appeared to assist with that. We were finding all the right people.!
Besides these two, we knew of several other Kiwis who were attending the rally, plus I had 12 Triplesonline members who were spread right across the country, and whom we may be able to catch up with. These were the only folk we knew in America at this time. My route maps had incorporated several stops near where these people were, but some were a bit further afield. The map was always just an intention, inasmuch as we might need to change it as we went along, but it was at least a guideline that allowed me to plan distances and times so we could approximate our journey.
The most positive thing was that we were answering many of the unknowns - and that felt rather necessary from so far away. There would be many still unanswered until we hit the ground in LA, but that was how that was.
Preparations.
Apart from my plannings, and the Rally formalities, we decided to hold a few gatherings as time grew nearer. They were to be monthly get-togethers, and the idea was to alternate between our various addresses to make the travel less arduous. We had about 5 or 6 actual organised events, plus many impromptu ones, as the subject was always at the forefront. The tempo increased as we began scanning the 'bikes for sale' areas of the internet, although at least two prominent sites failed to be of use. One closed altogether, and another simply ceased to work properly in NZ for no apparent reason. "Craigslist" and "Jaxed Mash" became my two best sources, although being as it was not the time of year for riding bikes in California, there were few of our desired types appearing.
Our first meeting was in March 2013 while Steve and Andi were over from Perth. That got quite a few faces together for the first time and was a wonderful thing as it suddenly made the whole thing seem not only possible - but highly probable. We discussed a whole raft of issues like accommodation, bikes for the women to ride - seeing as how the Sprints when laden might be pretty heavy - our travel arrangements to America and general stuff. A few of the crew offered to research some specifics, and we adjourned feeling our most optimistic yet. Brilliant.
We took a ride with Ann and Brent to the Bealey Pub in November 2013. Ann was riding Brent's Ducati ST2.! What progress she has made. This allayed some concerns I had that she may be a bit overcome by the highways of America. To see her riding that large fairinged bike and managing well was another big confidence boost. I was very much aware of a feeling of responsibility for these guys seeing as how I had hyped them all into this. It had not been difficult - but I still felt responsible. I was sure that Beth would be fine - seeing she was used to big bikes, and now Ann too. That only left Marian who would be upgrading to a larger bike. Just what bike we were not entirely sure. The Bealey crew.. My 'big' Trident looks positively dwarfed by these modern bikes.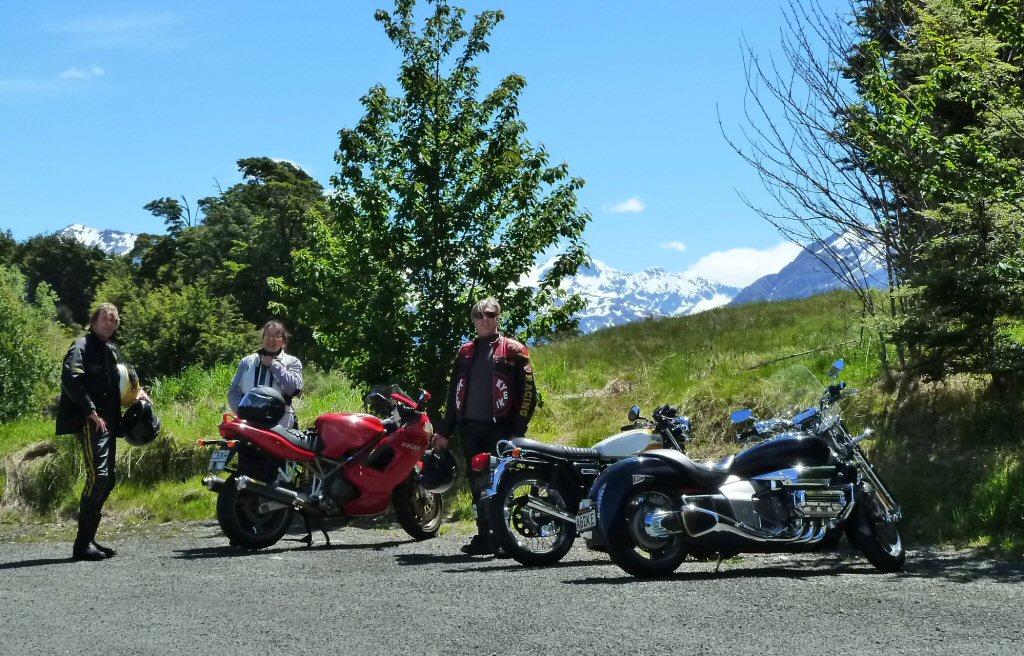 Another get-together of great significance was in Feb 2014 when we stayed in Kaikoura together. 8 of the crew all rode there and got to socialise as well as all ride together for the first time. Ann was now riding her recently acquired Suzuki 650 and looking very confident on it. I was very happy with how the weekend went for the riding, the problem solving, and just the fun of being together. It bodes well for our extended tour. I guess its going to look a bit like this reversed NZ pic when we are in America..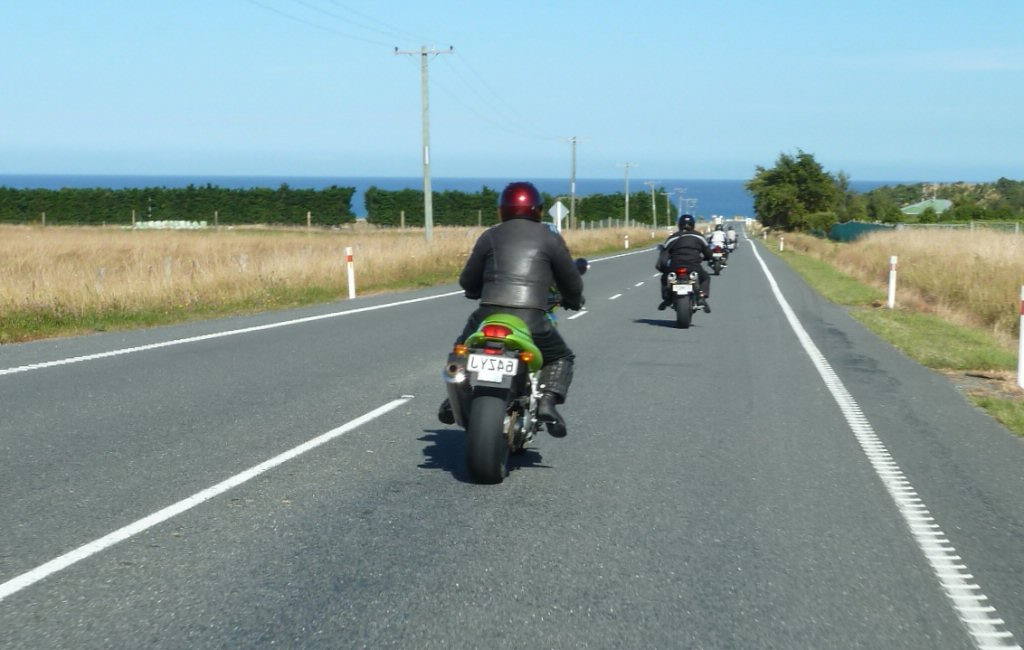 We are now entering 'blog' mode so all sections will now be preceded by a date and were written as they occurred.
9 Feb 2014
John French reappears in my email headers. He has carried out extensive engine repairs on a 955 Sprint ST, and the owner had bought another bike while it was laid up. As the repairs have cost several thousands, it is to be sold to recover the costs. Do we want it.? Hahaha. Thomas jumps in with a 'yes' and funds are transferred to John. He will collect any bikes for the cost of gas - a most generous offer. I spy another on Craigslist, but despite being in LA - it would be a 200 mile trip to view it, and that puts it in the too hard basket. I have to start thinking on a larger scale.! I begin to vet ads by their exact location in relation to John. There has been a Sprint at a Dealers for some time, and John thinks the price might therefore be a bit negotiable. It is - so we now have Steve's bike as well. Both bikes are red and with panniers. Brent has decided he will opt for a 1050 Sprint, and there is one very close to John. He checks it out dubiously as it is rather cheap and high mileage, but it seems fine and there are now three bikes stored behind John's house.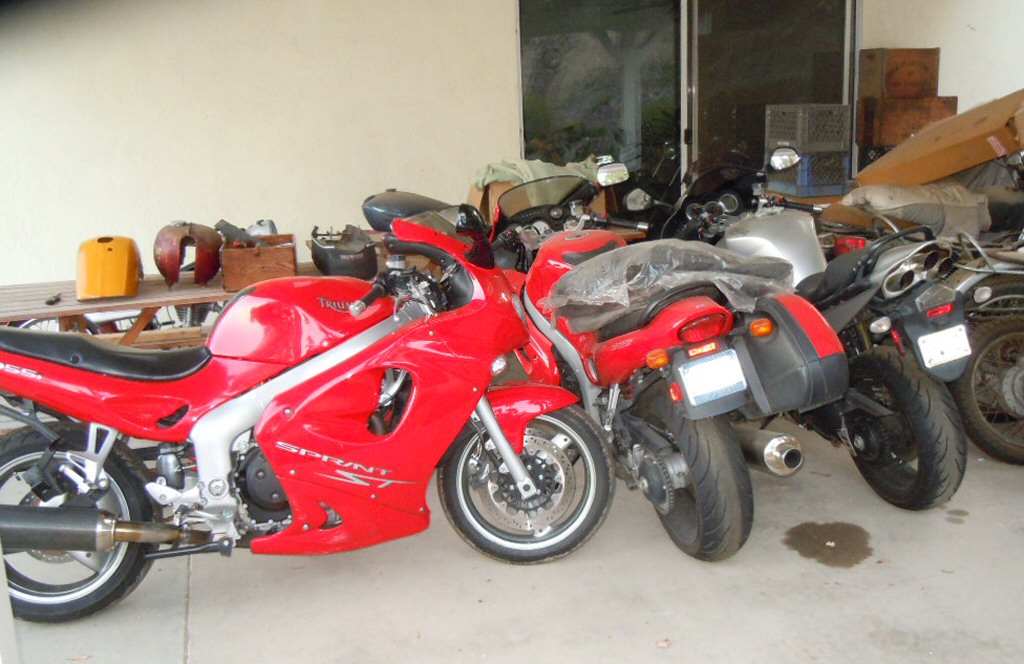 19 Feb 2014
We're on a roll.! Being a Ducati aficionado, John comes up with a really good size bike for Marian - a 620 Multistrada which is very low mileage. Marian agrees and we now have four bikes. Things are moving fast now. I am transferring as many funds as possible to John in single transactions to reduce fees, but it is not easy when we have no idea what each bike will cost until it shows up. I spot a very good value red 955 in Garden Grove, and ask John if he can check it out. A phone call reveals it is actually in Palm Springs - 100 miles away. John checks the VIN records and it all sounds above board - so he drives there and grabs it. It has no panniers, and has been lowered for a shorter rider, so is the obvious choice for Gary who prefers a lower seat height. Five down. Woohoo.!

3 March 2014
Allan begins speaking with Brent in San Fran as he has seen a couple of very nice 1050's up that way, and despite being costlier than the 955's - whose supply is dwindling because of us - they both have a lot of extras and luggage options. He decides to grab them via Brent and both have been acquired and stored at Brent's place in Alameda. We now have a total of 7 bikes in a short space of time. Astounding progress thanks to our most excellent friends in California.

Only 3 more bikes to find, but we only have 5 weeks to go. Here's hoping.!
23 March 2014
A weekend in Reefton for 7 of the crew - staying at the old Nurses Home. Great place for our group, and always a fun stay here. As usual we enjoy a healthy breakfast at the "Future Dough Company" down the street. We are wondering what our food will look like in America compared to here. We hear they do large servings, but will it be healthy.? This certainly looks like the right stuff - but we don't do this every day..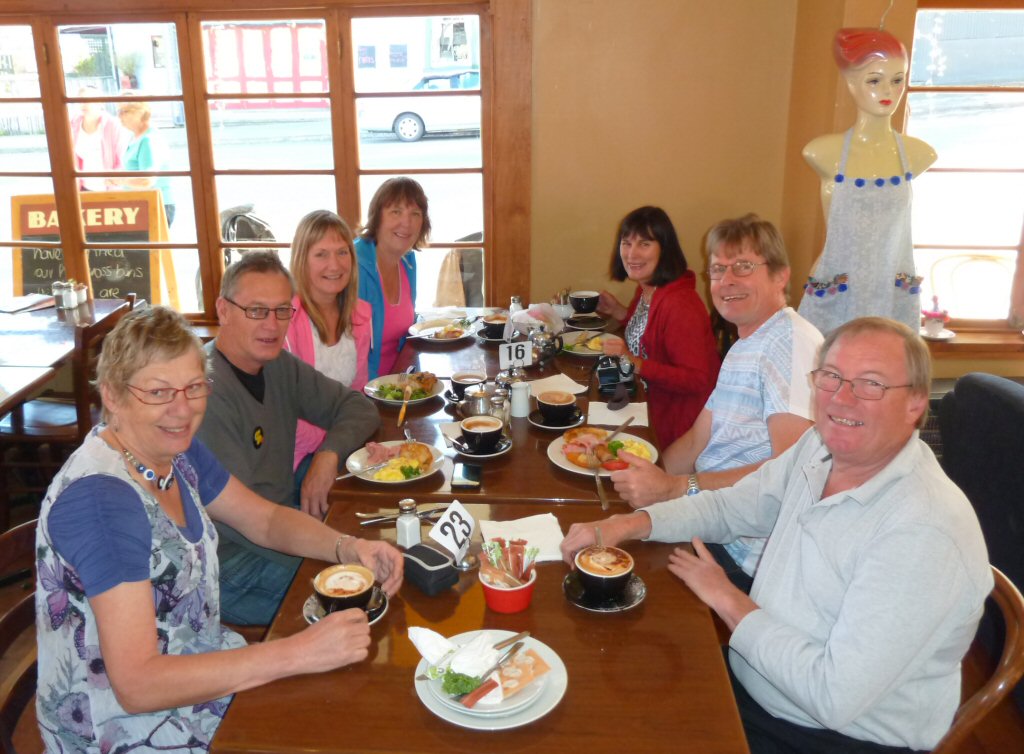 Later we make a big circuit through the Lower Buller Gorge, down the coast with a stop at Punakaiki, then back via Blackball where we enjoy a break. The "Formerly Hilton" has been a favourite destination over the years - good association for our thoughts about the trip.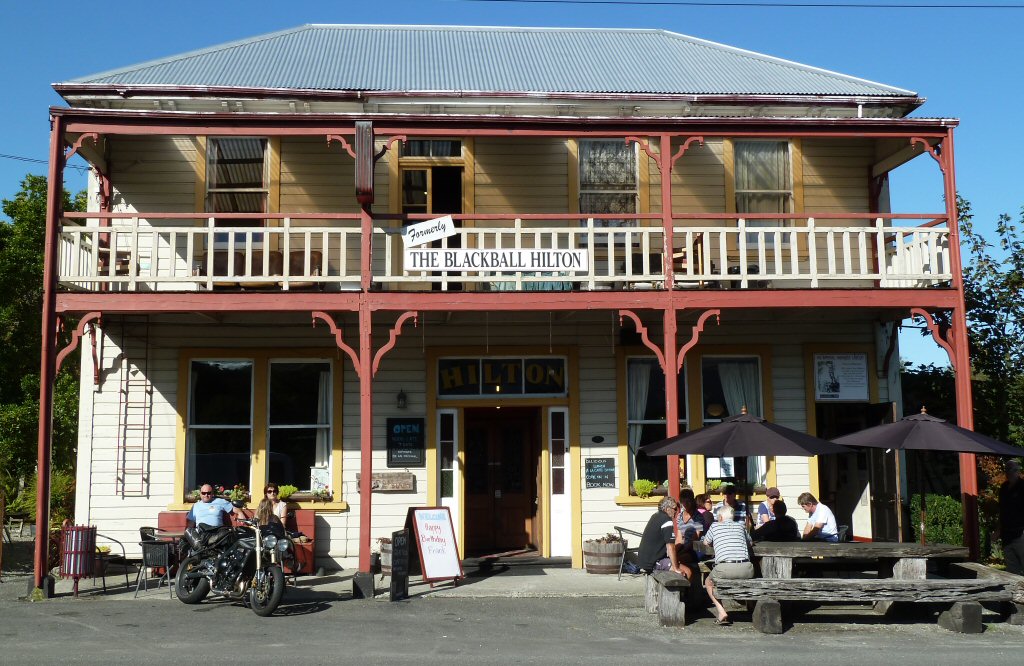 Great weekend and ride/drive. Thanks all - shape of things.!
24 March 2014
We have another bike.! This green Sprint has been for sale in Reno for some time, but I thought it would be too far away to acquire it. However, Brent offers to do just that, and it becomes ours. Mine even. It has a 'salvage' title, meaning it has been accident repaired and is thus well priced - but can only be third party insured. I have no problems with that.
The bike is stored at Brent's along with Allan and Beths bikes. There is an old rivalry between New Zealanders and Australians - seeing as we are closest neighbours of Colonial descent - and there is seldom an opportunity lost to poke fun at each other. When I thank Brent for storing the bike, he replies that it is no problem, as he is renting it out for track days.! I respond that he should thererfore remove the panniers as they will be counter-productive. Seems there is still plenty Australian left in Brent..
Only Ann's LAMS approved bike and Tom and Helen's Sprint left to acquire. We may yet pull this off.!
5 April 2014
With input from Ann and Brent, John has purchased and recovered a Yamaha FZ6R - this one - tasty machine, and it complies with Ann's licence restriction. It could otherwise cause problems with any potential insurance claims. It is stored at John's with the others - so he now has 6 extra bikes at his place. Might be a nuisance. This bike has low mileage and is in great condition. Bound to be reliable..
I am in two minds. I am thrilled that we have 9 of our 10 bikes, but I am also highly anxious that we need one more 955 Sprint - especially as supply seems to have dried up - plus we still need to find a van and a trailer. We are agreed that we will spend 3 nights in LA, which only gives us 2 and a bit days to sort bikes, paperwork, buy phones and riding gear, blah blah blah. If we still have to buy any vehicles it will likely delay us further. The stress levels are up.
7 April 2014
Brent contacts me with news that a BSA club member in the Northern Cal club has died, and his widow is wanting to dispose of a bike - which he thinks from the description might be a Sprint. Sure enough - a real beauty - and he bags it pronto. Woot! Whilst it is sad that the owner passed away, it is thus more significant that this bike shows up in what seems the final hour, and from a member of the very club hosting the rally. The force is with us.!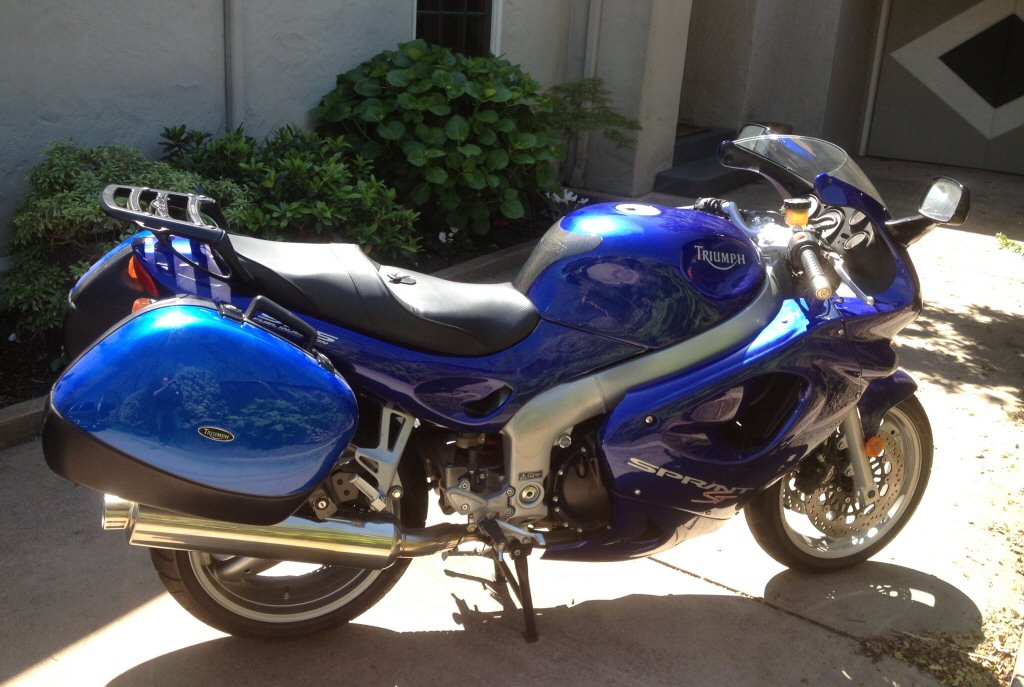 This marks a milestone in the planning - yes there is maintenance to be done - but we have the bikes. All thanks to John and Brent who between them now have 10 bikes stored and waiting. Whilst this means 6 crew will have to drive from LA to San Fran - it still makes everything not only possible, but just brilliant! We trust we will be able to repay these two for their absolutely invaluable help. Thanks a million mates.!
16 April 2014
The pressure is on. A week and a half to go and I am trying to arrange bike insurance and buy a backup vehicle. People ask if I am getting excited - I just don't have the time right now...
We have chosen 'Geico' as our preferred Insurance outfit. They have quoted some sample prices for 12 month policies for the bikes, and are interested in the riding history of each owner. It seems that age and experience play a big part in the reaching of a price. They will refund whatever proportion of the policy we do not use. Sounds good. I will notify all the crew to get their ok, then get the specific details for each rider. We will be using our NZ licences and they seem happy with that.
I am hoping the van turns up soon so I can arrange all the insurance in one move.
Fingers crossed.!
21 April 2014
One week to go and we have a van.! John has bought a Chevy Astro LS like I have been looking at on Craigslist. It is an 8 seater minibus with a 4.3 litre V6. They call that "small" in America.! It has a towing package and front and rear aircon. The absolutely perfect example considering. Having studied photos of these things, there is a luggage area behind the rear seat that looks as if you could fit a few bods in. If we can also get 4 people on each 3 seat row, we will be able to carry 12 persons. Might just do it. The van will be useful for heading out in the evenings to explore wherever we are staying, so even if two trips are needed, the idea of a more economical and manoeuvrable vehicle appeals to me as being the most user-friendly option for us. Cool as. Hoho. Should look like this..
I have just notified Geico and added the van to our list of requirements. It will cost around US$1000 to insure it for 6 months. Ouch.! At least we will get half of that back. Apparently, even if it is insured in my name - the others will be covered under the 'occasional use' clause. The trailer is presumably covered by the van policy. All bikes have been quoted prices and couples can get a slightly cheaper deal by having a joint policy. Bike policies are around US$380 each, but couples even with two bikes are around US$580 for the pair.
I was concerned that the paperwork might be a problem considering that they will hardly have time to mail the policies to John before we arrive - but they have offered to email the labels to me, so we will not need to ride/drive without them. It is something they are pretty hot on it seems.
Done deal.!
I love all the people gathered here. I see so much excitement to come. Shared excitement only fuels your own. Taste it and see...
Why are we doing this.? I guess we have to..
25 April 2014
The final piece of the puzzle has fallen into place. John just emailed to say he has collected both van and a Zieman trailer. It is one I spied at a dealers, and looks to be the perfect thing for our purposes. It has three bike capacity although they were probably intended to be dirt bikes and ours will be bigger. The feature I really like is a large toolbox across the front which is lockable. This will be a real useful item.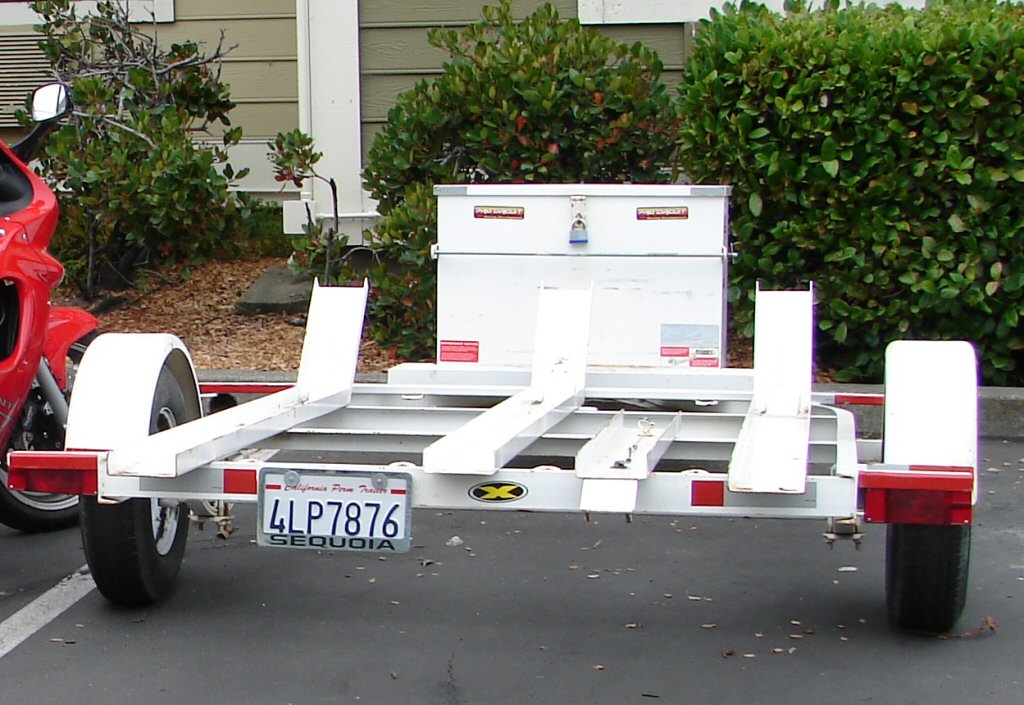 Remarkable.! We have all vehicles assembled before we even leave here. The timing has been exquisite - if somewhat nail-biting. Damn - it is only 3 days until we leave - this is shaping up so well I can scarcely believe it. I may now be able to sleep though..
Thunderbirds are GO.!