Back Roads Tour December 2019
Christchurch crew started out at 5am intending to meet in the main street of Woodend. When we arrived this entire part of SH1 was closed to traffic from the south, so we rode around the detours then got together slightly further north at the Pegasus roundabout.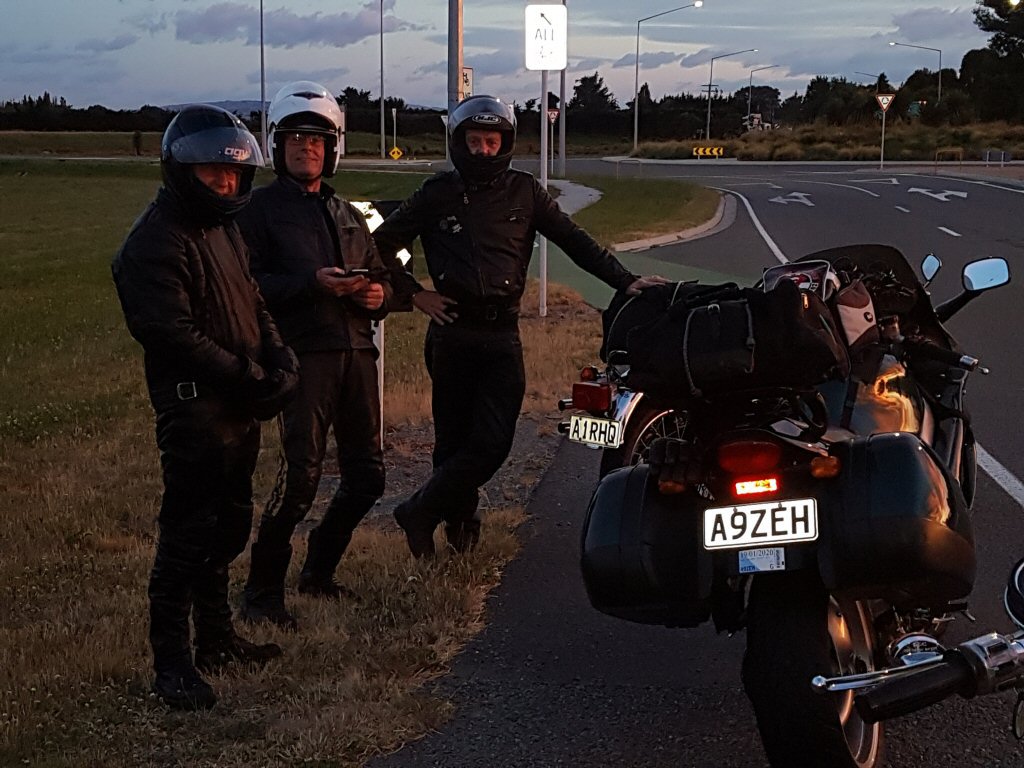 We were Mark, Kendrick and us, but no idea where Richie was and no reply to my phone comms. We decided to press on - seeing as there was a ferry to catch.
Despite a dozen roadworks delays we made it to Picton just in time, and immediately bumped into Chris and Annette at the first gas station on the way in. Within minutes Richie rolled up. He had been ahead of us the whole way, but as his phone was bust he had detoured into Blenheim to buy one. There were now only Thomas, Allan and Beth to come. As it was time to check in for our sailing we decided to head to the terminal in case the other 3 had already gone there. Phone messages remained unanswered, but phones seemed to be doomed today.
While they were not at the terminal, Thomas arrived just as we moved through the barriers, and he rushed off to notify Allan and Beth, who then arrived while Thomas was absent. That soon resolved itself, and after a potential grand cockup we were suddenly all aboard and lashing our precious cargos to the bulkheads of the ship.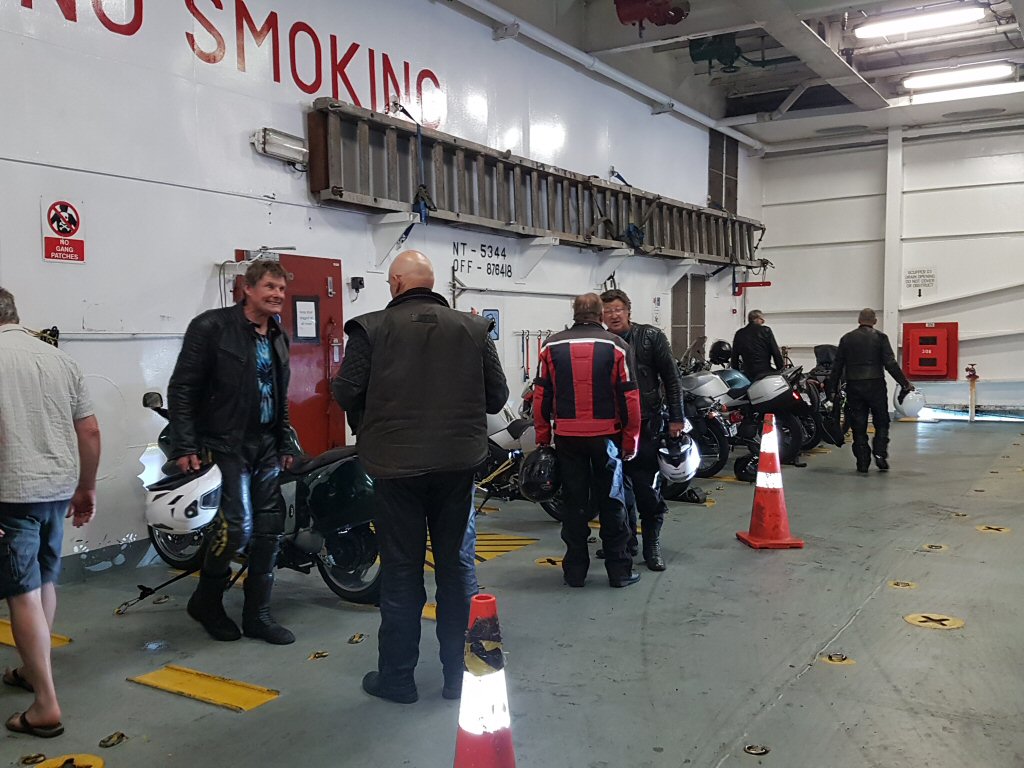 As was a part of the grand design we arrived in Wellington at what should have been a quiet time of day, so our progress to the motor camp at Petone would be a rather straightforward cruise up the motorway. Initially it was, but as soon as we got to the Lower Hutt waterfront we were presented with a traffic jam of the slow moving variety, and we had no option but to crawl along with it. Eventually we arrived at the Top 10 and our checkin was mercifully brief as I had emailed everyone's details in advance.
Armed with bottles of milk and assorted keys we skirted the barrier arm and found the way to our units. They were all close together so we commandeered the available parking spaces and settled in.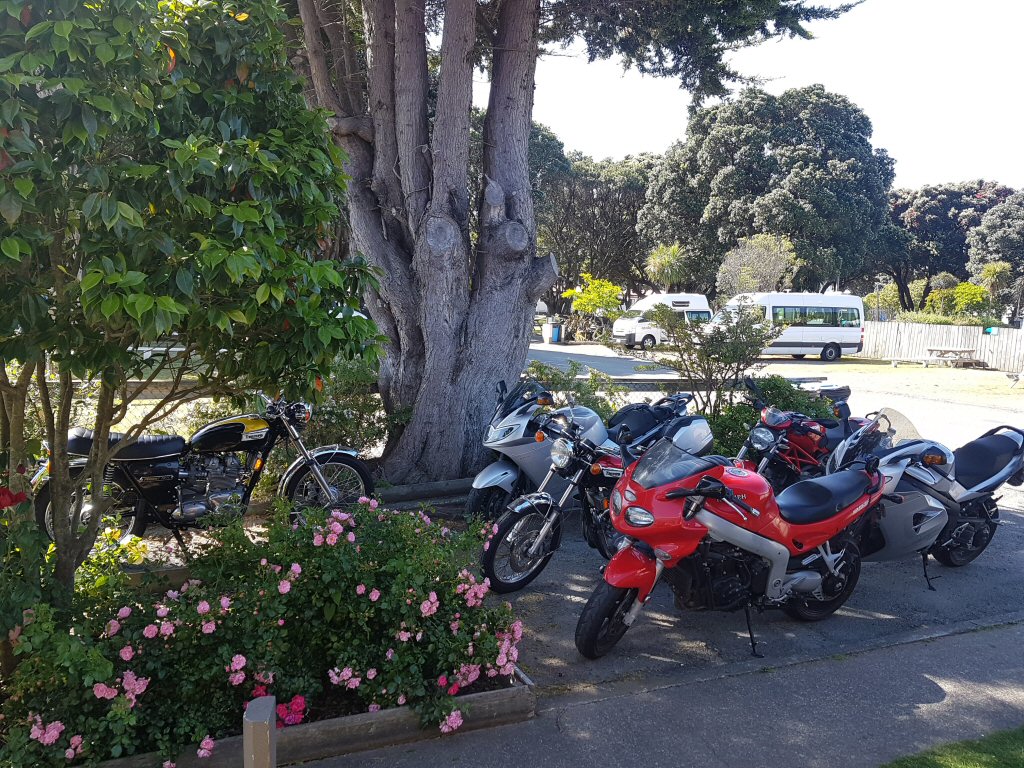 Having unpacked we proceeded to adopt the relaxed approach to our tour which has been a hallmark of all such rides to date, including the ambitious tour of North America. The people are where its at, and the more we mingle the better it feels.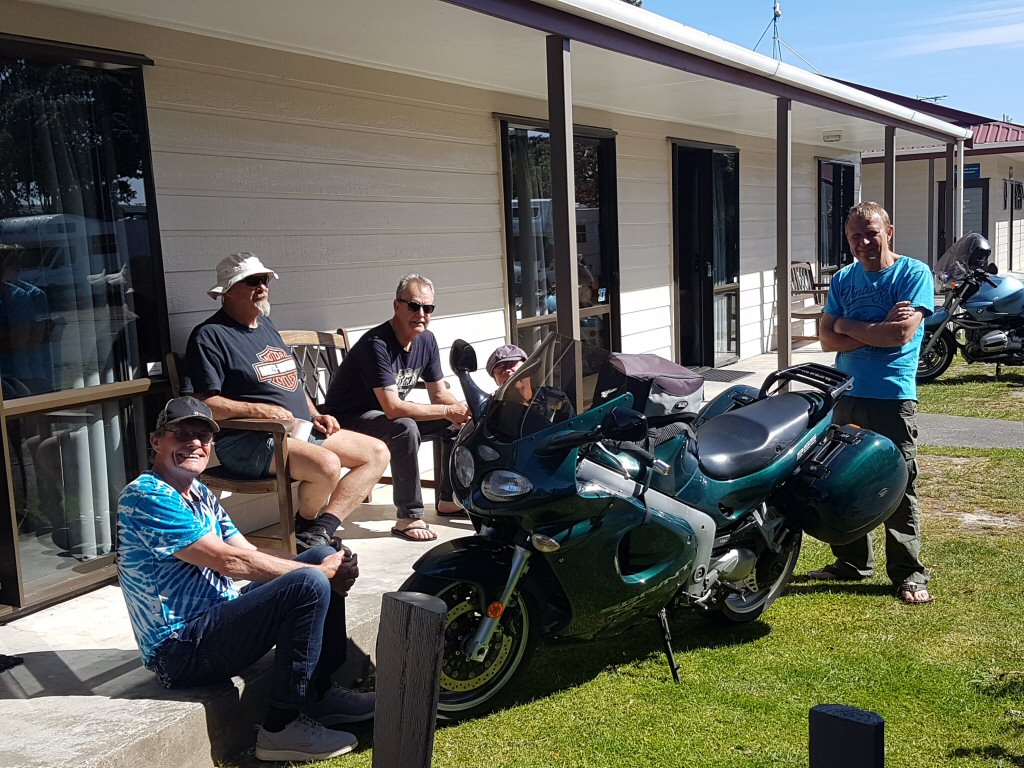 Everyone tends to wander to and fro so there are usually several centres of action. The main idea is to be enjoying the occasion.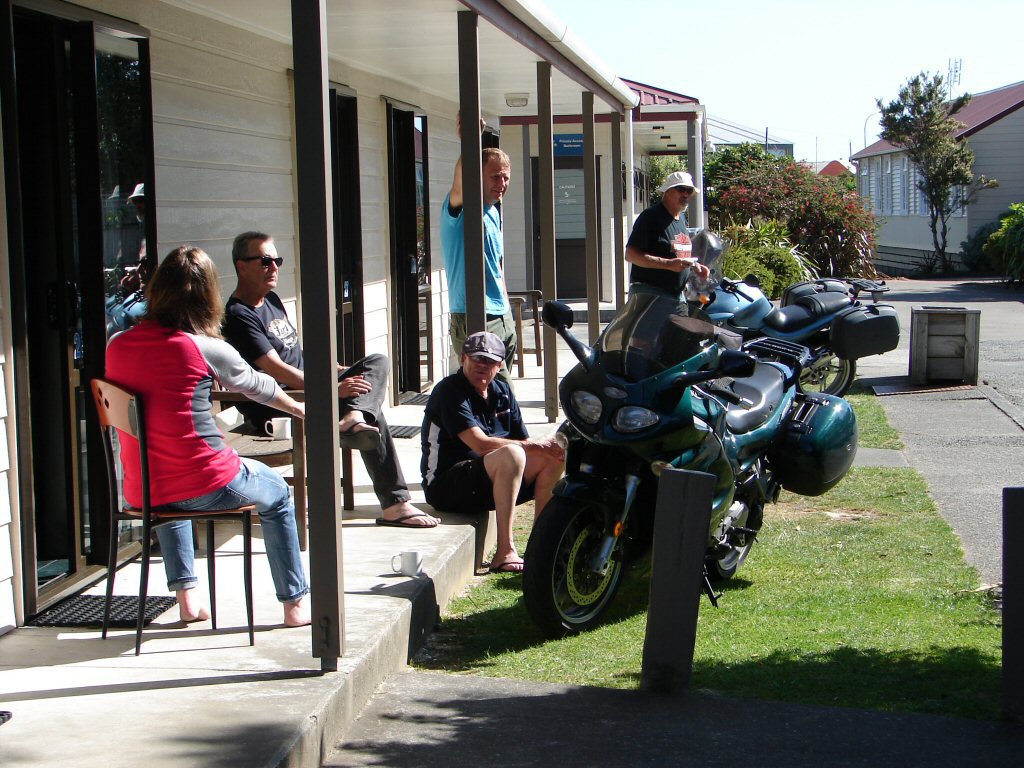 We made the most of the free teas and coffees prior to wandering next door to where we had spotted a Bar and Restaurant attached to a recreation centre. That became the focal point for the rest of the evening and we ate and drank until retiring for the night with the idea that we would head away around 9 in the morning.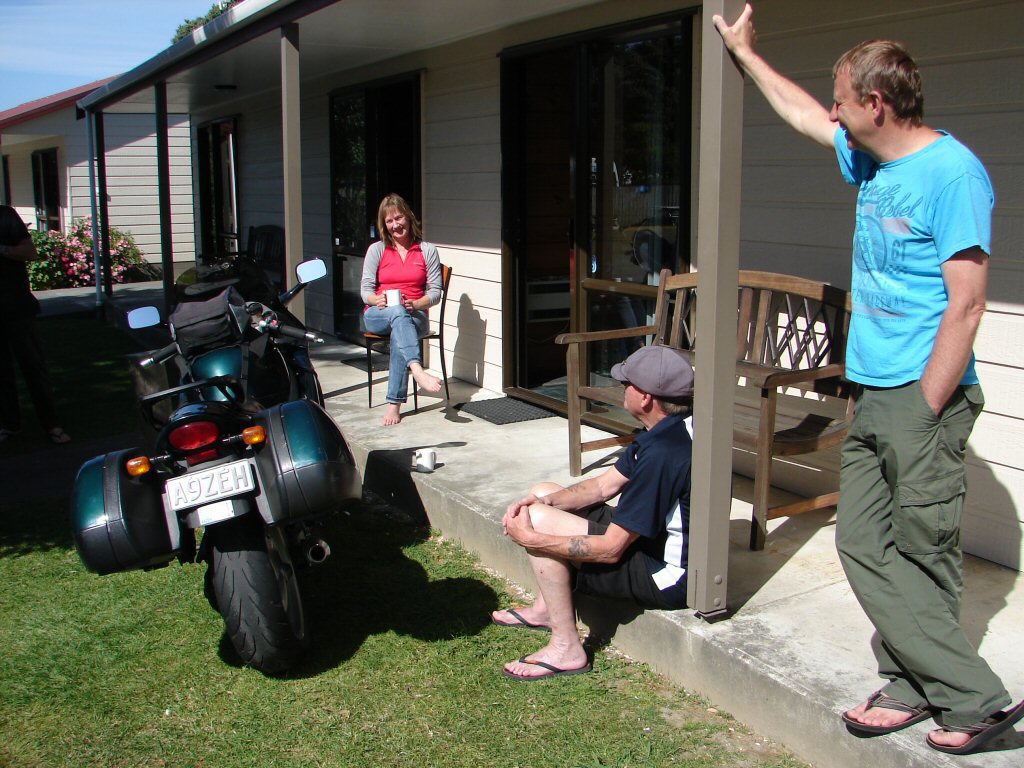 All were up and about before the arranged time and the bikes got packed and readied for the off.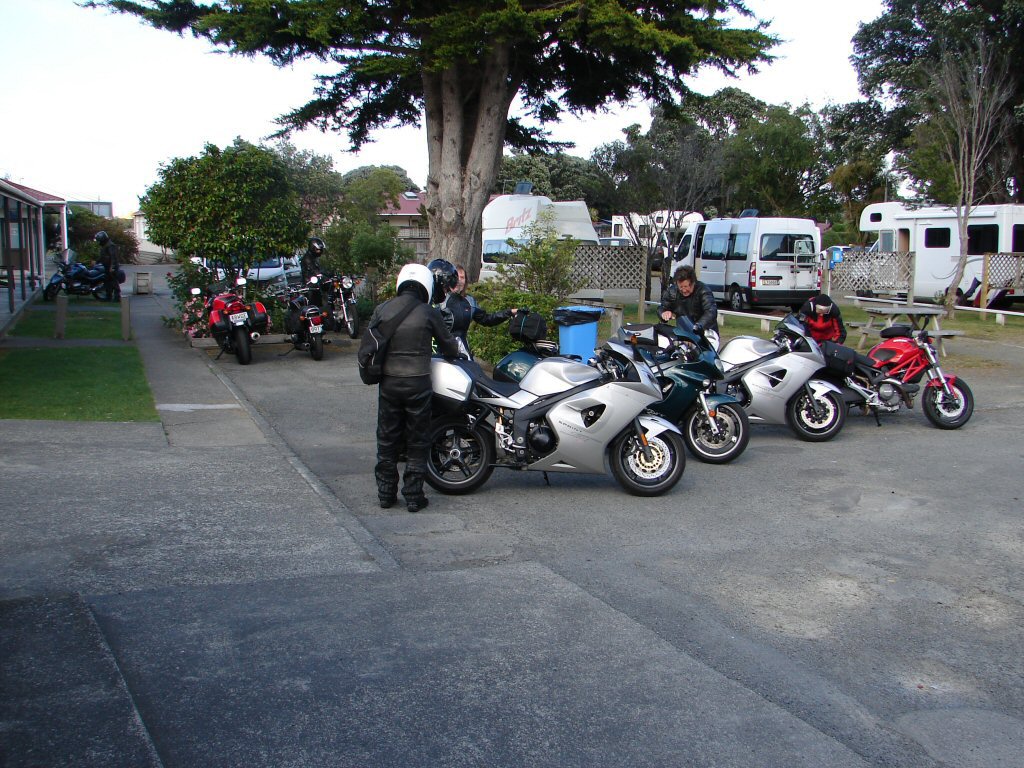 I had issued some written instructions giving our entire trip in a blow-by-blow chronology, which had been lifted from the BRT website that had been the precursor to the actual ride. However, without actual maps some of the details were up for individual interpretation related to people's previous experience of the area. I had previously found it to be a somewhat tedious route getting onto the Motorway from Petone, but had stumbled across a lesser signposted entrance which I had described in the epistle.
During our pre-takeoff chats it seemed that others had the same route in mind, so when we ended up at the rear of the group I was not concerned, until I realised that the others were in fact heading for a different location. I stuck to my plan figuring I would end up out in front and could wait along the way.
Without seeing any of the group we finally hove to out of the built-up area where there was plenty room and time to pull off the highway. First rider we saw told us the main group were waiting back a mile thinking we were behind them, so we rode back and waved them on, and joined the busy traffic stream heading for the Rimutakas.
It was a tad windy over the top as it is wont to be, but we all circulated over in turn and after a brief rendezvous in Featherston headed on towards Martinborough. Here we took over a section of footpath at the edge of the town square then wandered off in all directions looking for the best brunch you could imagine.
I think these are the people our parents warned us about...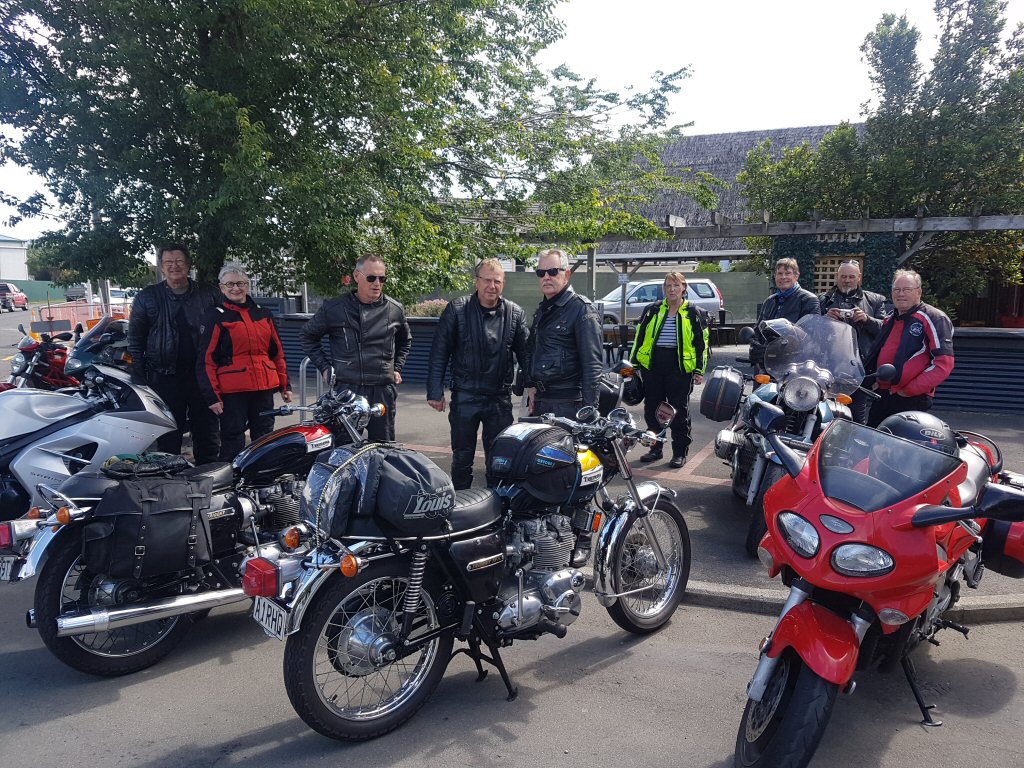 We found the best place, albeit full of coppers, and had some great food while sharing accounts of the road thus far. As you do. From here we would head out into the backblocks to get to a Pub we had heard was a favourite haunt of folks with old British Triples like we had - although apart from Kendrick and Mark - had left at home.
We duly did just that, and the Longbush/Homebush route proved to be a gem of a road, which eventually offered us a turnoff to Carterton which would lead us to the Gladstone Inn. Which it did. And although there were no other bikes in sight, we did the only decent thing and stopped for a beer. Or cider. Or bourbon. Or something even milder.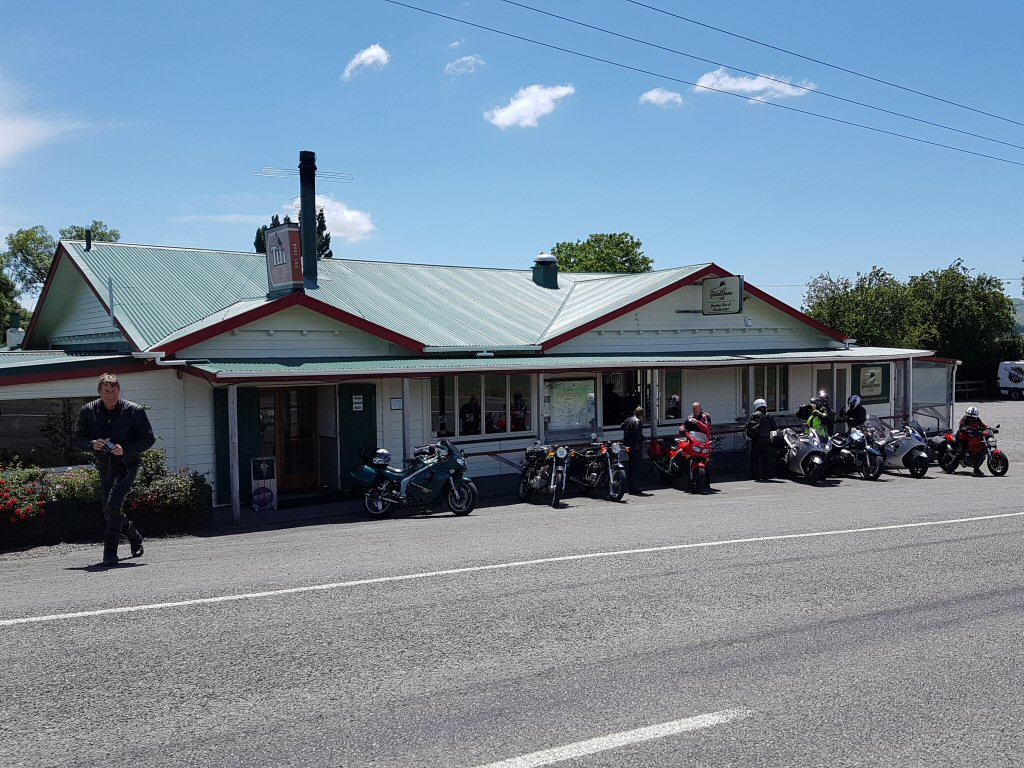 Inbetween darting about to record the event we had a good look around in someone else's watering hole and generally enjoyed the place. There was a lone biker present without his bike, but we chatted about the inevitable people we all knew and he shared some local knowledge about the best roads hereabout which we might be able to include on our way. Pleased to report that we eventually did.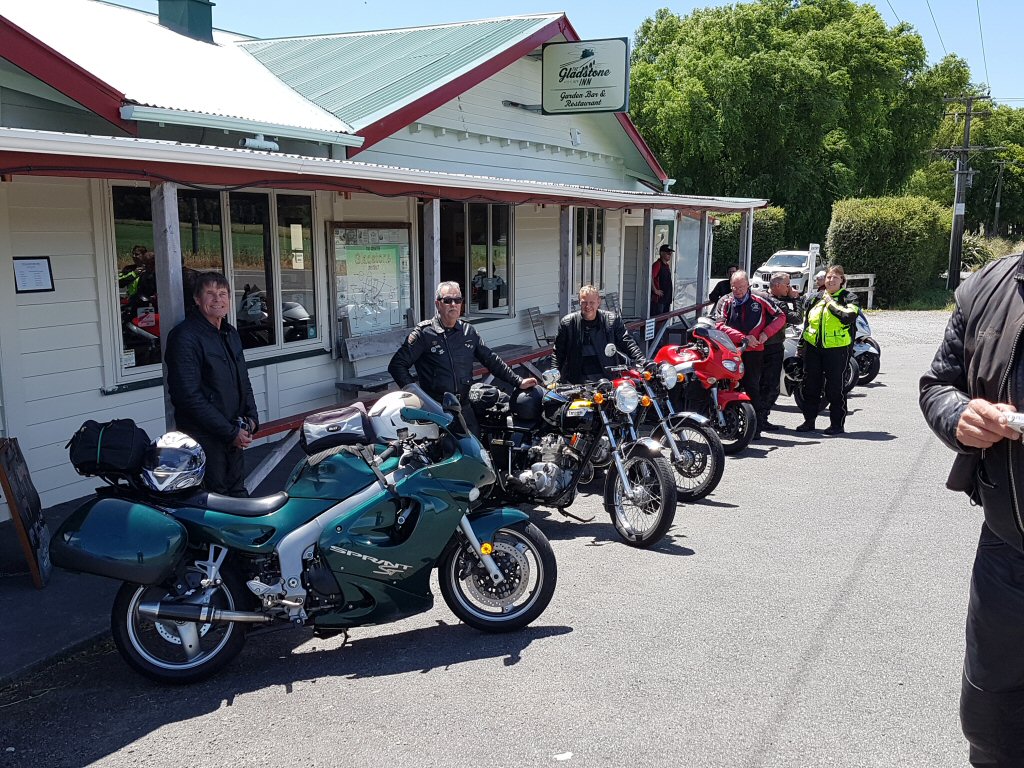 From here we rejoined our back road to Masterton where we fuelled up. Heading north briefly on SH2 we then veered off through Mauriceville where we lost Annette for a few minutes, but soon we were off again and crossed SH2 traveling by another lesser road into the back of Eketahuna.
A quick regroup and we crossed the main drag and headed out into the rural countryside again, passing up through Kaitawa then back to the main road at Pahiatua. From here we scooted along the highway to Woodville and checked into our new digs. The rooms were all in a row and out on the carpark, so we were perfectly positioned to spend our idle hours socialising amongst the bikes along the verandah.
Excellent.!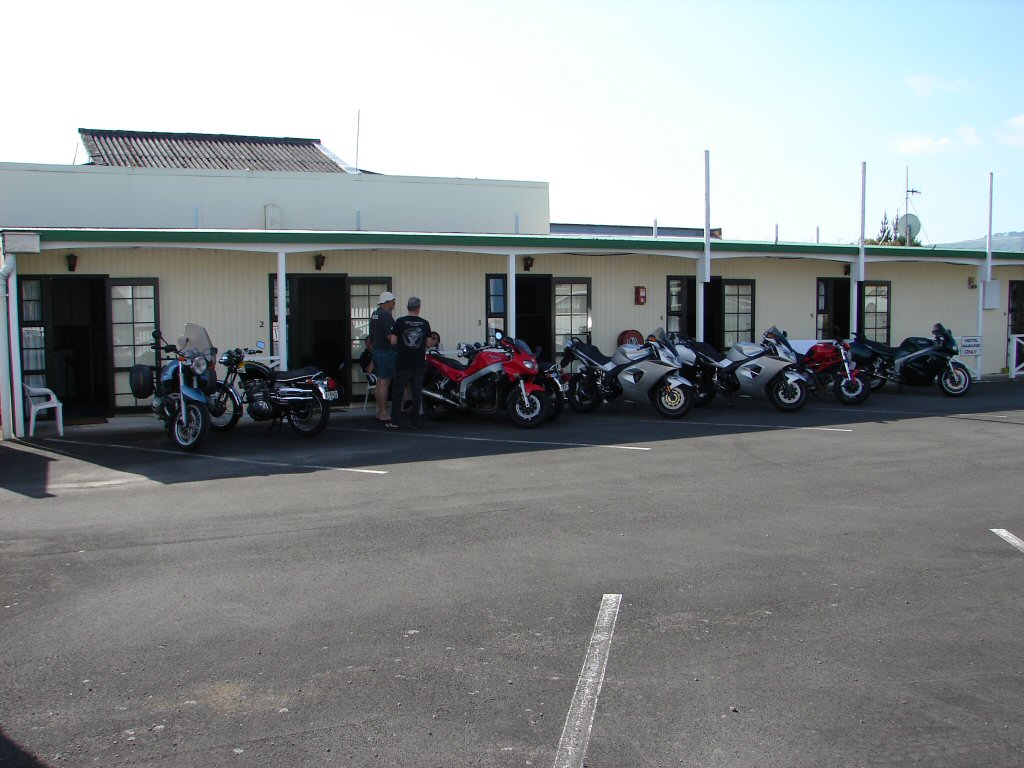 Of course we began doing just that immediately - pausing only to grab a few provisions to keep the tongues lubricated...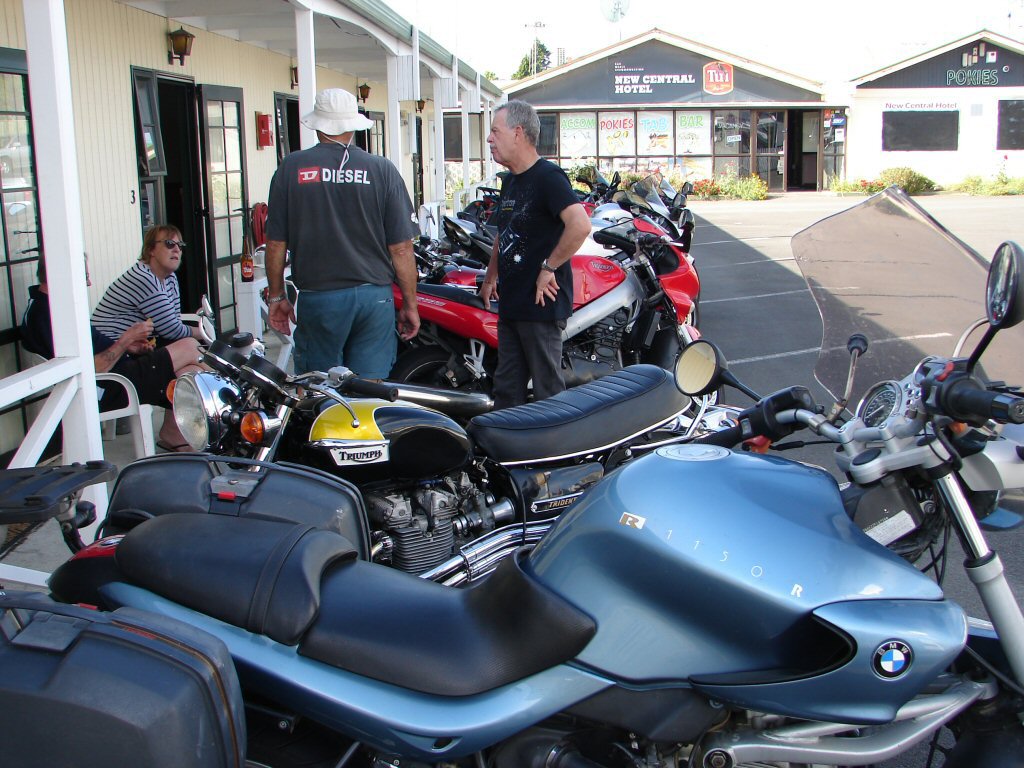 Sue managed to get most of us looking in the same direction for a second or two. Hard act that.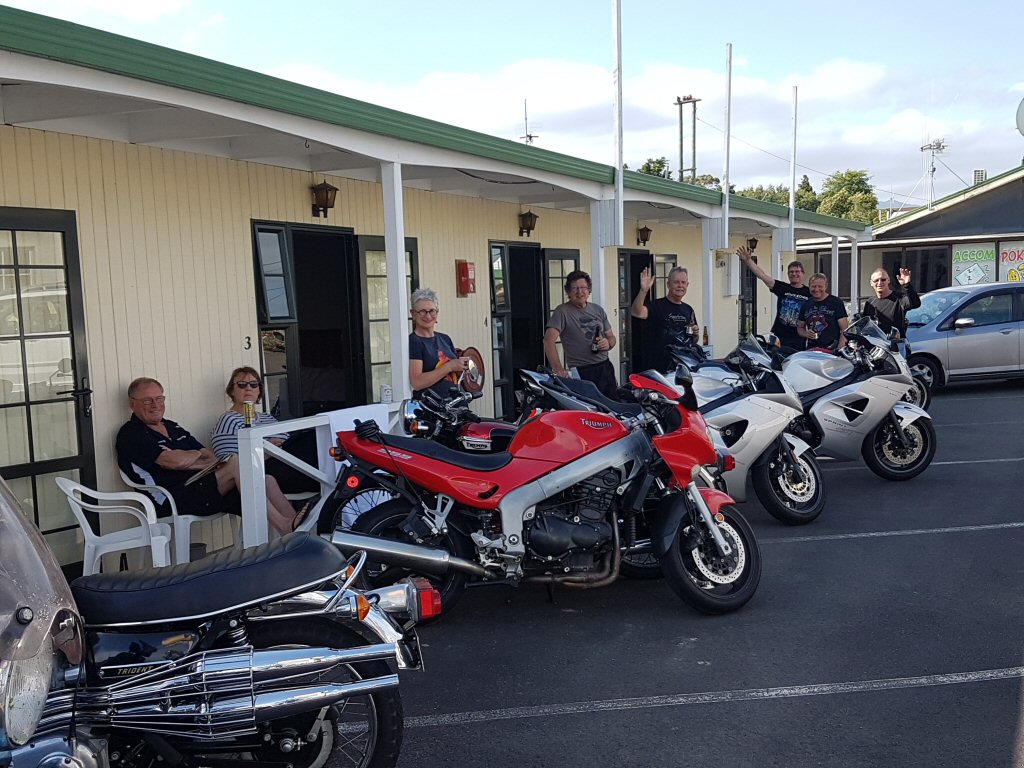 The hard core were soon discussing the merits of chrome chainguards, double IPA's and the state of the economy in China. Thirsty stuff indeed.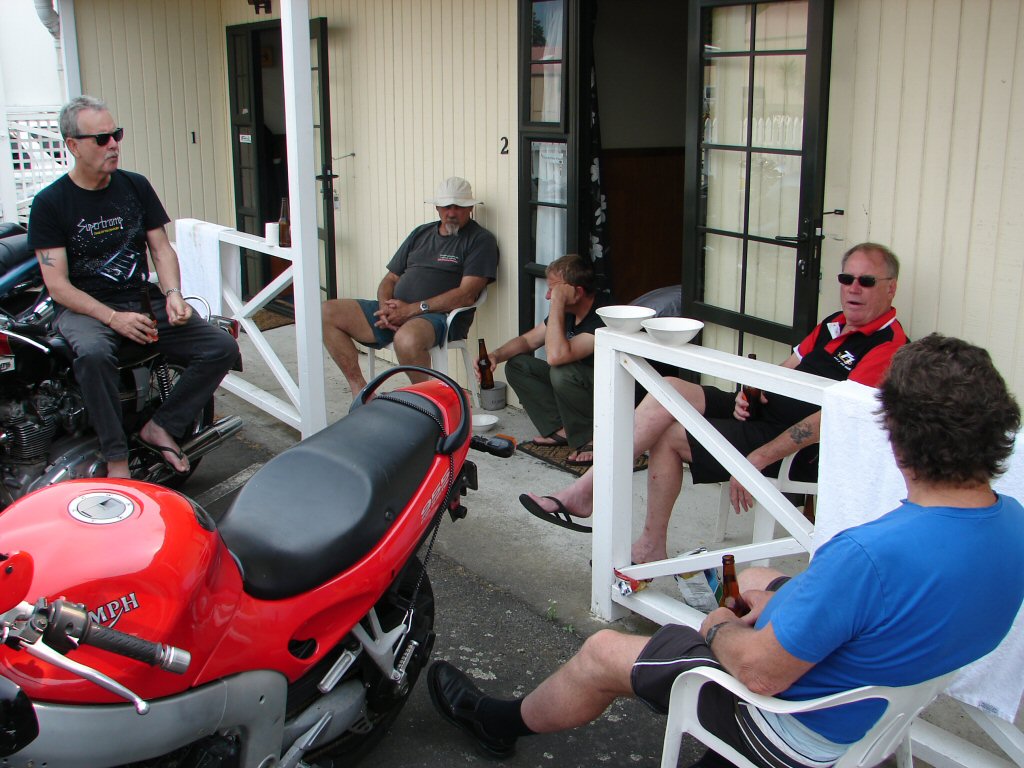 The girls manage to inject a little more balance into the equation.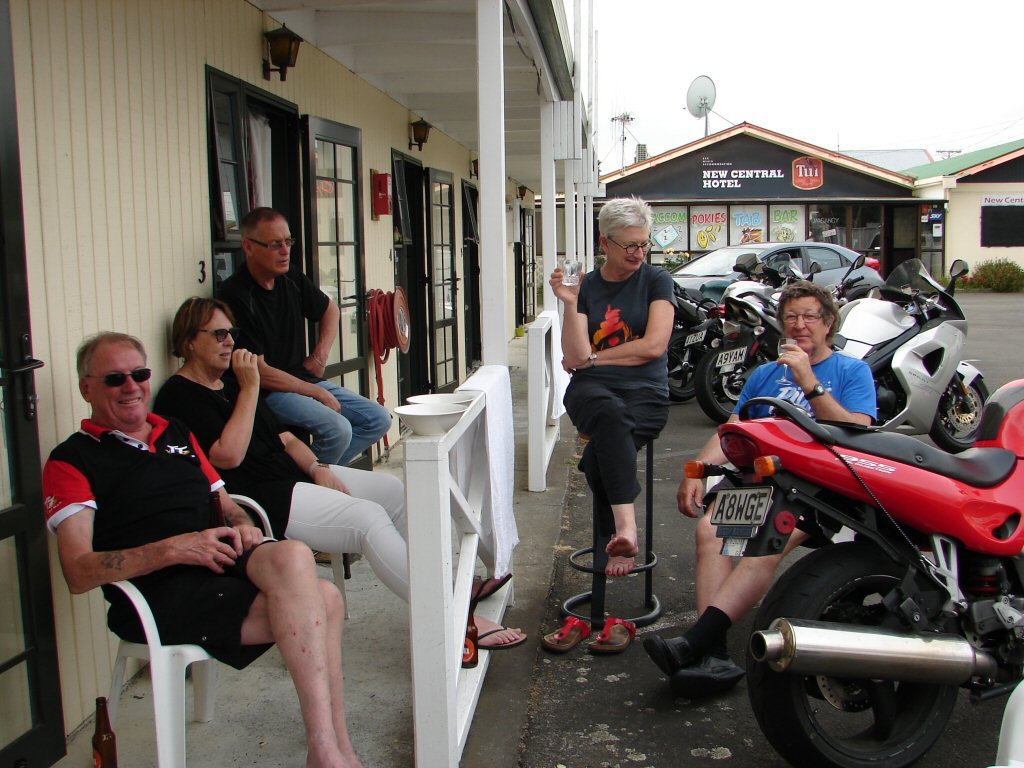 Meanwhile Kendrick is living up to the description on his tee shirt..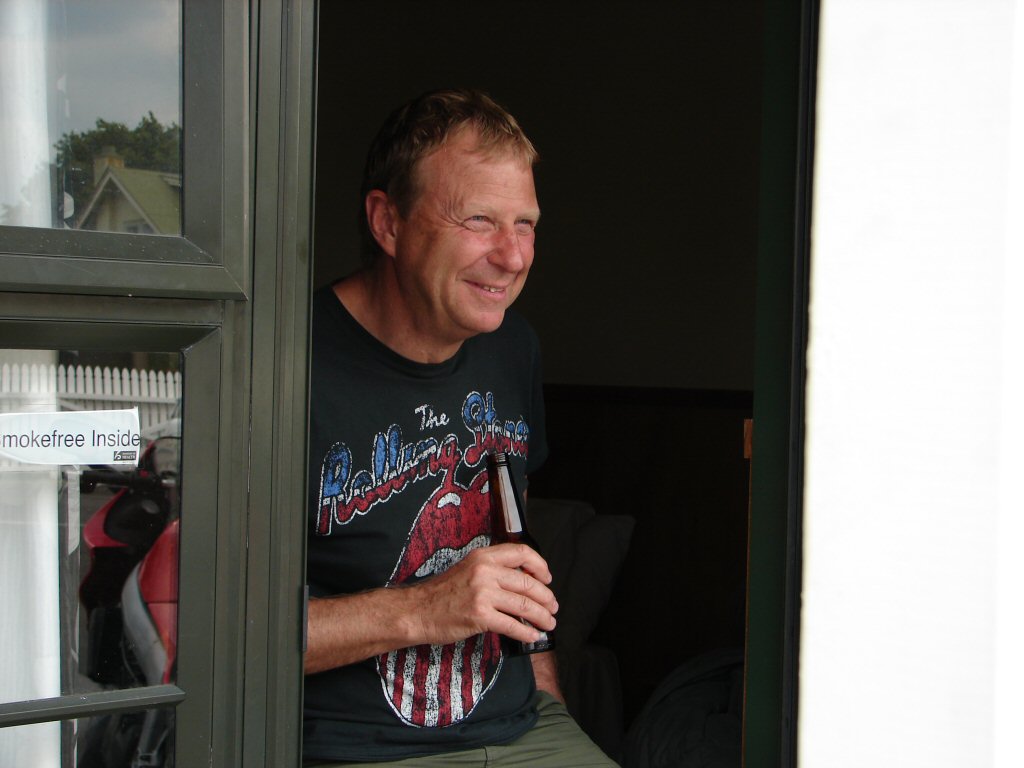 I think the topic of conversation is now turning to art galleries and potential purchases therefrom. Good thing we are on bikes.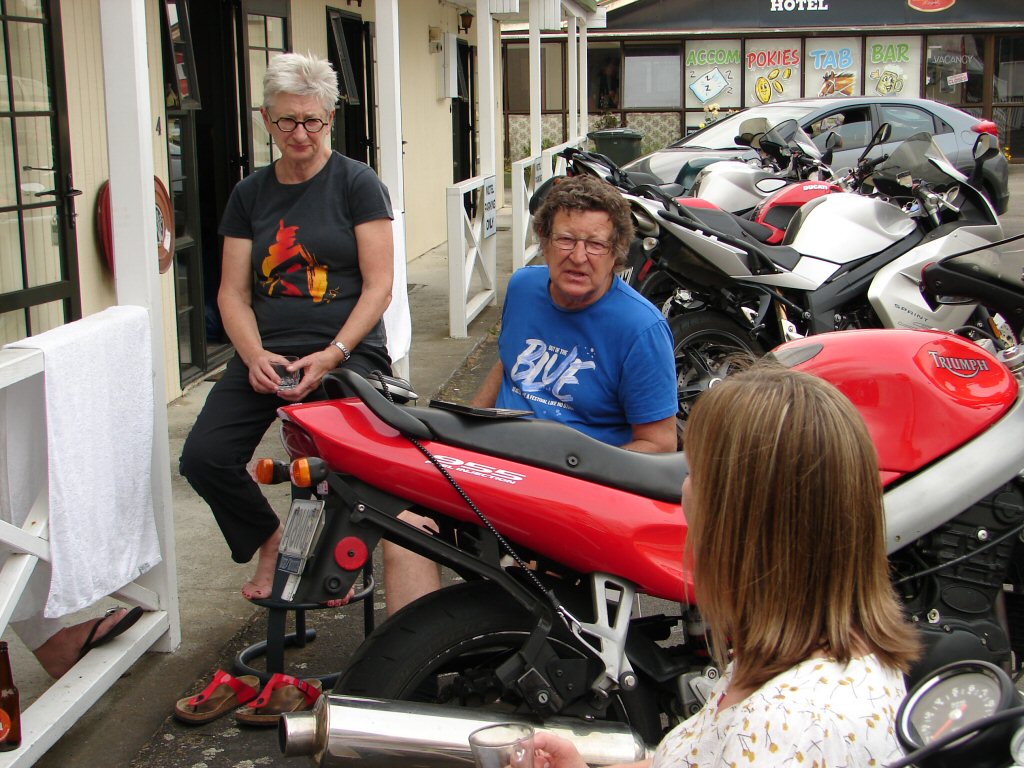 Meanwhile Allan is keeping an eye on the happenings on SH2, which hardly stops night or day. Good interest value though.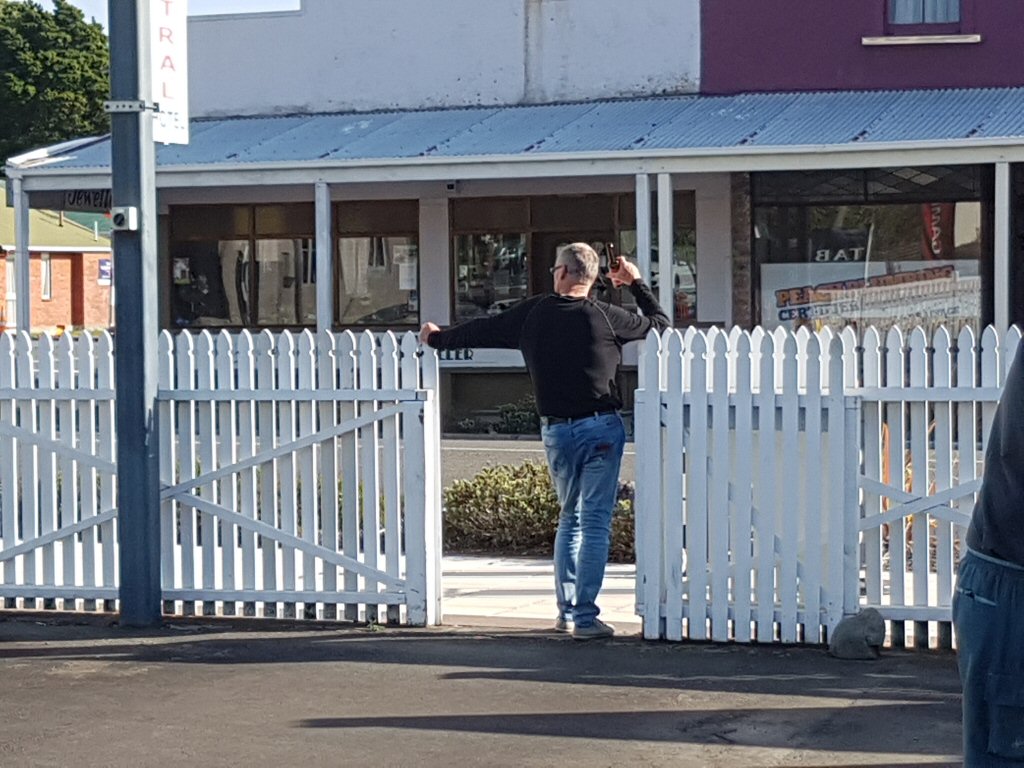 A relaxing late afternoon after an interesting days riding on roads we had not ventured on before. Always cause for reflection on any day, but as a shared experience today there are more angles to be considered. The boys are winding down and a meal may be needed soon.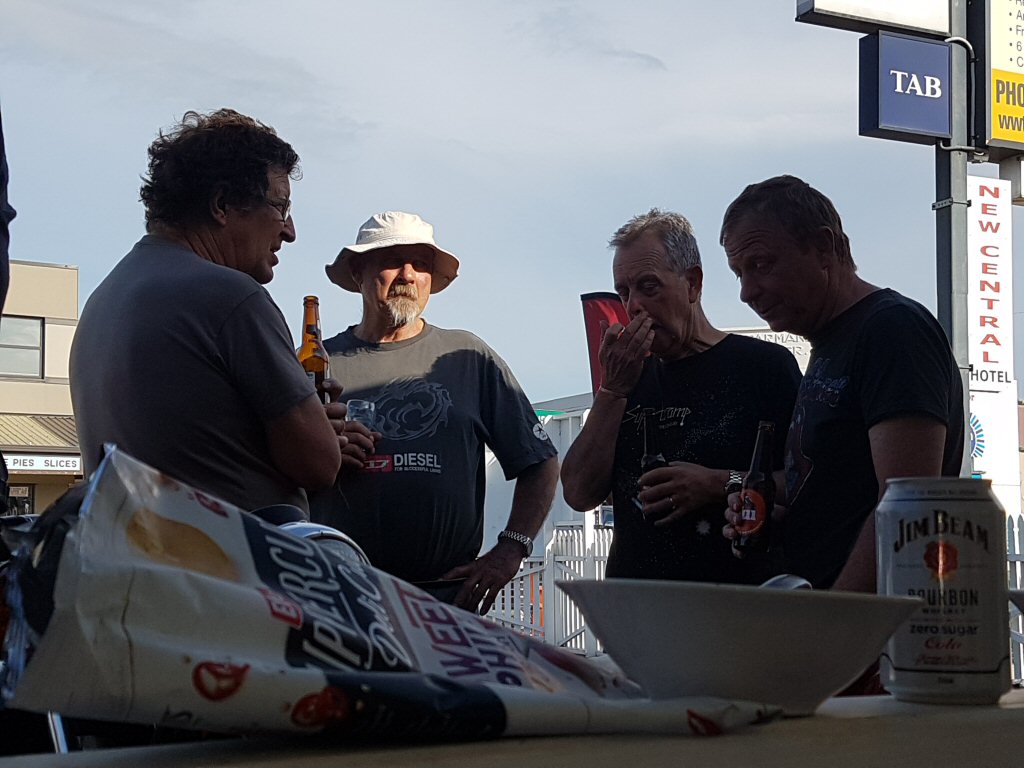 Although we have no idea how the food may be here at our Hotel we have decided to give it a try. Besides, it is only 15 seconds walk so it won't cut into our drinking time too much. No need for too early a start tomorrow as we are doing a day ride over the Tararuas then back over the Ruahines. Should be a good ride on quiet roads.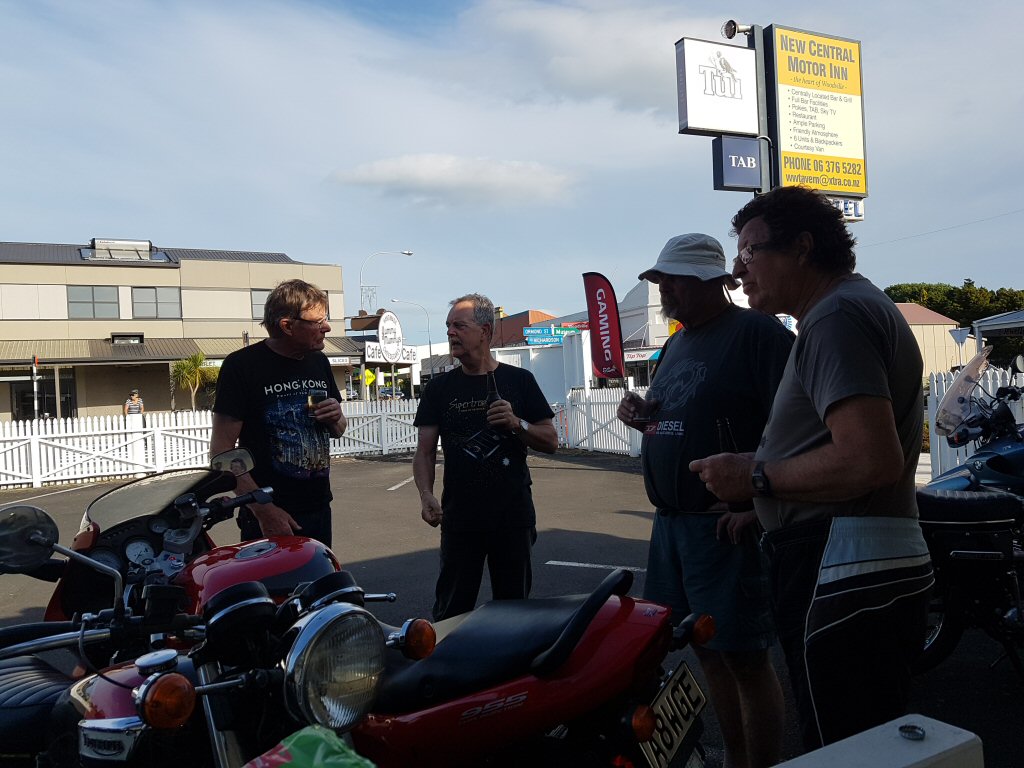 We headed out at an hour that it was hoped would see us reaching brunch before we all passed out from malnutrition. Although I had a fair idea that the intended venue would feed us well, I had not really figured out how long that was going to take in real time. The first step was to get us over the Tararuas and through Ashhurst, out across the flat lands to Feilding where our first fuel stop would be. I simply focused on that.
We initially headed for the closed Manawatu Gorge, then turned left across the Manawatu river and for a time went south before turning inland towards the ranges and finally meeting up with the Pahiatua Track. Back in the day this was a minor road that only we adventurous souls utilised, but now it is a semi main road which handles most of the diverted traffic from the Gorge. It was kinda busy today but we still made good time through, and after regrouping briefly at Aokautere we continued to Ashhurst.
I know the route through Ashhurst very well now, so we did not even pause and made our way up the hill and off toward Colyton. This is a gem of a road which begins with some challenging corners, then straightens to curves and undulating straights which fool one into increasing speed without realising. We met no resistance however, and soon made SH54 where we turned south again and rode into the outskirts of Feilding. Fortunately the BP station was still where Google said it would be, and we all gassed up with enough fuel to get back to Woodville - as it turned out.
From here I had arranged a complex zigzag route which would see us do more miles than cover distance towards our destination. There were numerous turns and intersections but satifyingly they all turned up in the intended order and no mistakes were made. First we headed northwest to Halcombe, then northeast through a number of direction changes before remaking route 54 to Cheltenham. I did not stop here as I figured everyone needed sustenance, so we immediately headed further northeast to Kimbolton and found to my great relief that Hansens Cafe was not only still there, but was indeed open. We did the decent thing and entirely blotted their carparking with our bikes.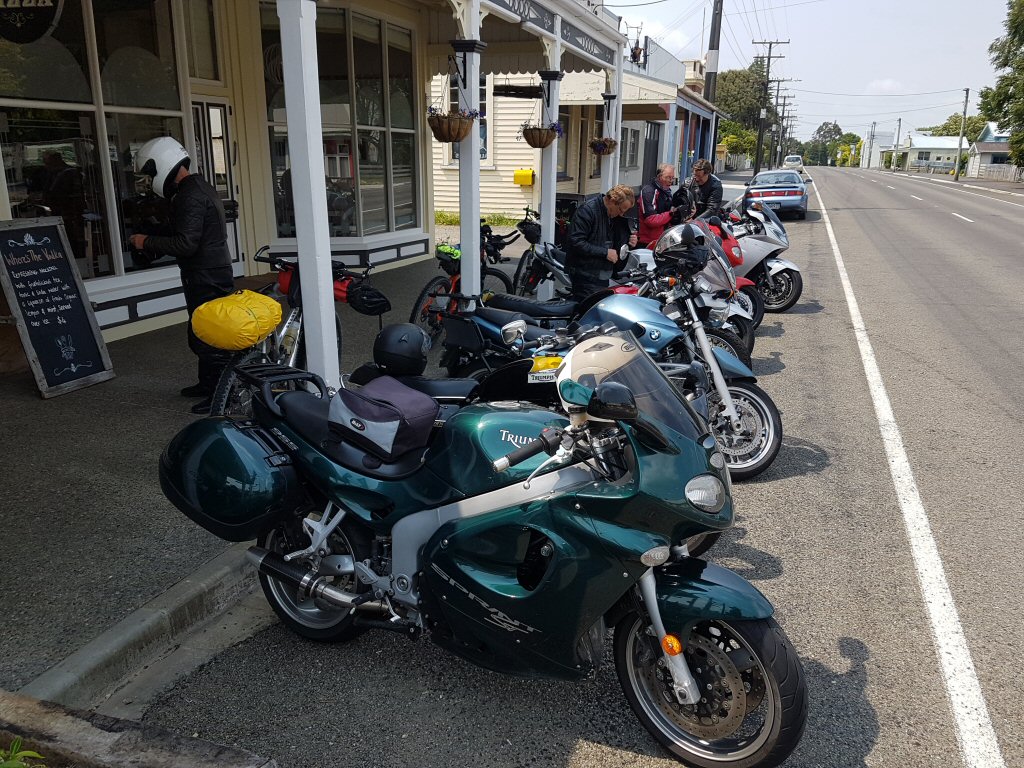 This is a fantastic place, friendly staff and glorious food, and none were disappointed. Here we are wearing our unfed faces...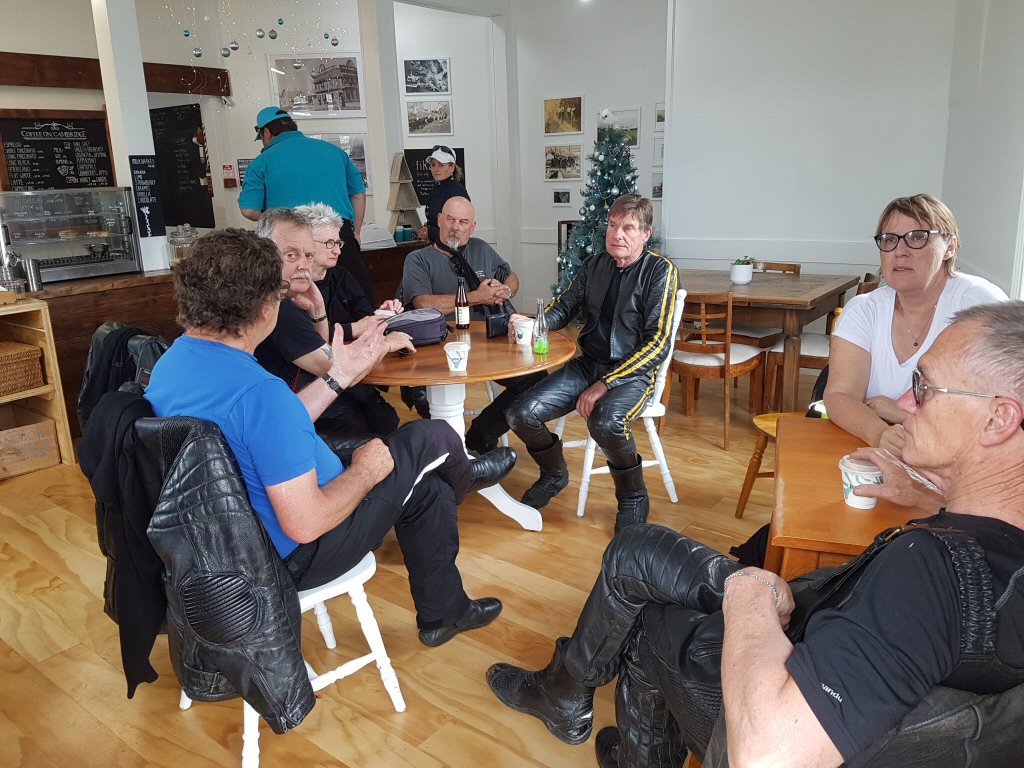 But merely minutes later we are fed and happy, with miles of unexplored roads to yet experience. What a cool place to be.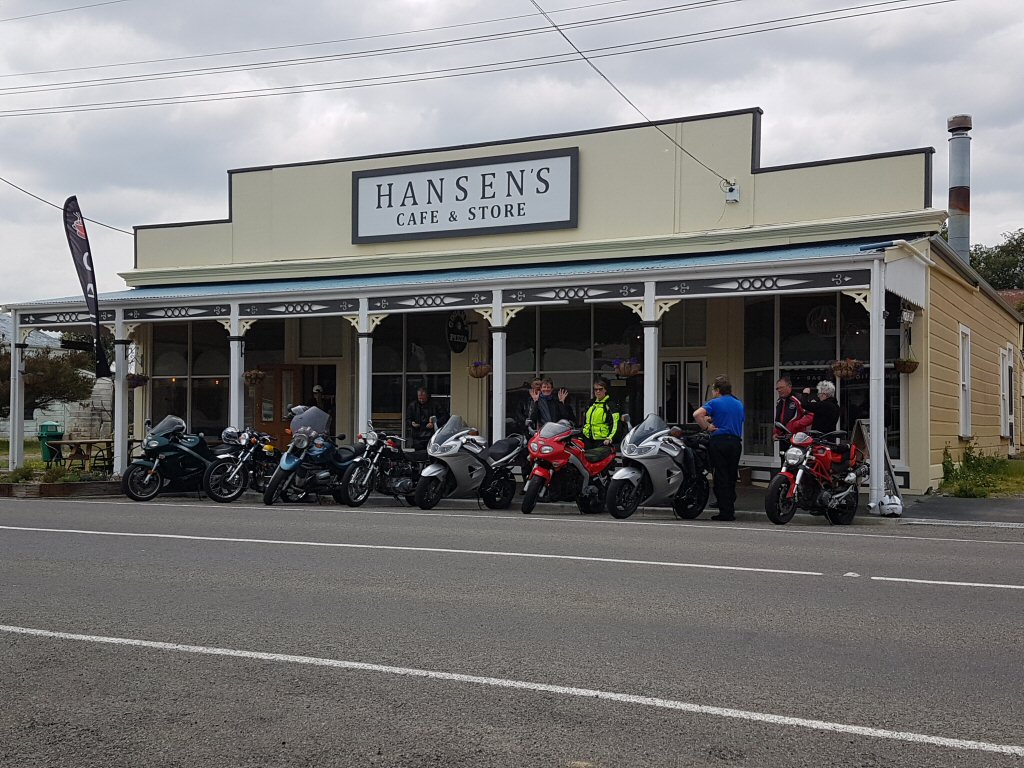 Our road back began with a small place called Apiti, where we wound down through a valley and through many rural type scenes before we made the Pohangina Valley Road which led us a merry dance through all manner of ups and downs and twisty bits for many miles before it all began to open out into longer stretches and a final swoop down to Ashhurst from the opposite end from that we had entered by this morning. We did stop at a Hotel that had now become a coffee place, so we did that, and then joined a good flow of traffic up to Saddle Road and through the Wind Farm back to Woodville. This stretch of road is only 15Km but is limited to 60Kph for most of its length, despite which we found ourselves behind cars managing 100Kph for good stretches, so we were hardly bored by progress. It is a very tight and demanding piece of road so you do need to concentrate, and as it happened, a driver died on this road later this day when we were all safely back at our digs.
And all too soon we were, and we celebrated our ride and our pleasure in being with each other. I think this is what makes motorcyclists different. We define the term "fellow" when it comes to fellow travellers.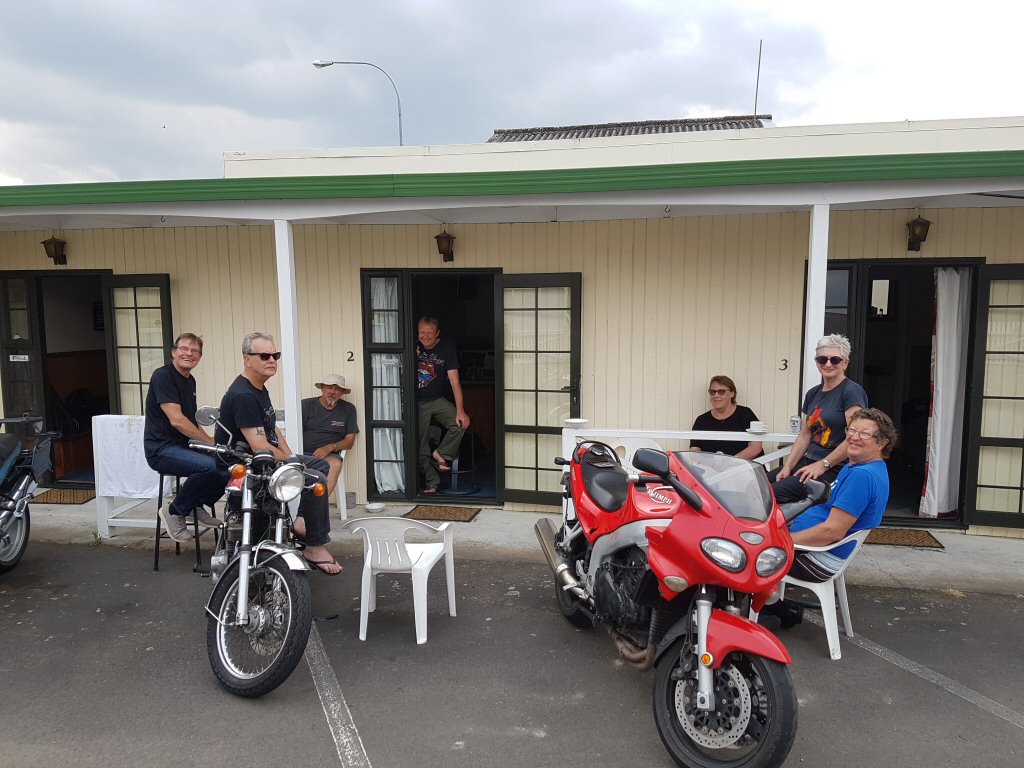 This evening we had decided to try either the local pizza joint, which had staffing problems, or the local fish shop which had good revues. We chose the pizza joint and were most pleased to experience some rather interesting surroundings.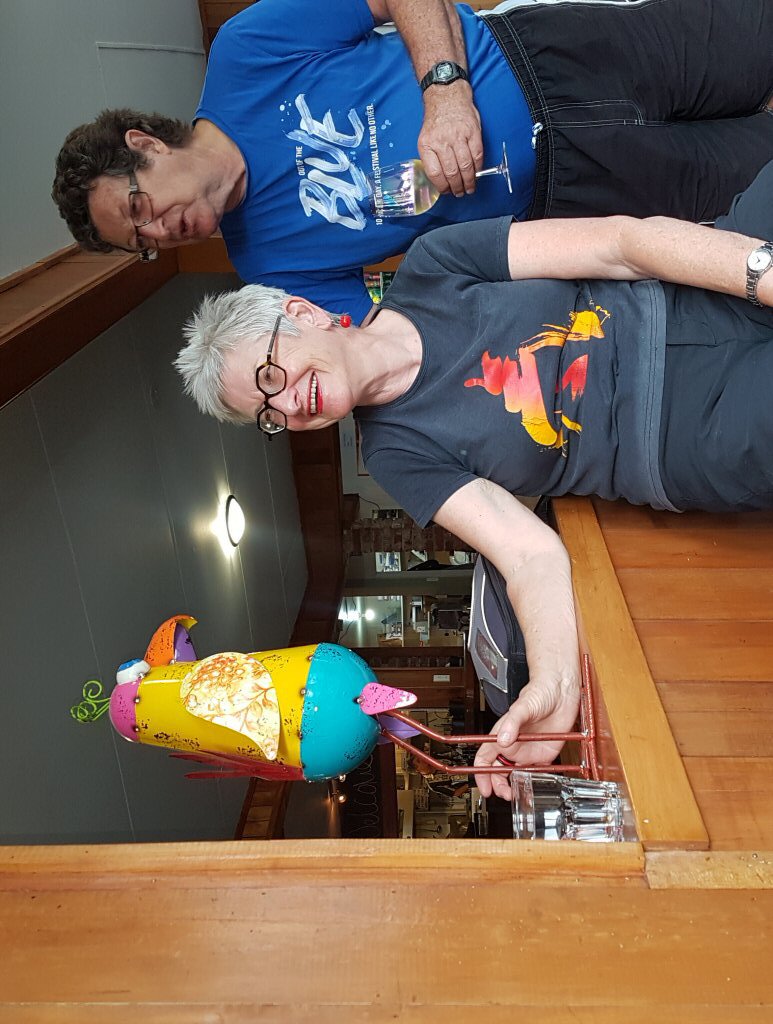 Despite their short staff and cheerful crowd these folks did very well, and we were frequently reassured as to the progress of our orders, so managed to be happy customers.
The pizzas on arrival were just brilliant, and we fell upon them like conquerors of new lands - which indeed we were. We came, we saw, we rode the crap out of it...
We were aware that some extreme weather was approaching the country from the west coast, and news had it that things were kinda serious down in our South Island. We could see from the radar that we were in the firing line to some extent, but could only wait and see. There was no deadline for us, only an intended path, so if things should change our minds - our minds could be changeable. Come morning it seemed that was the case..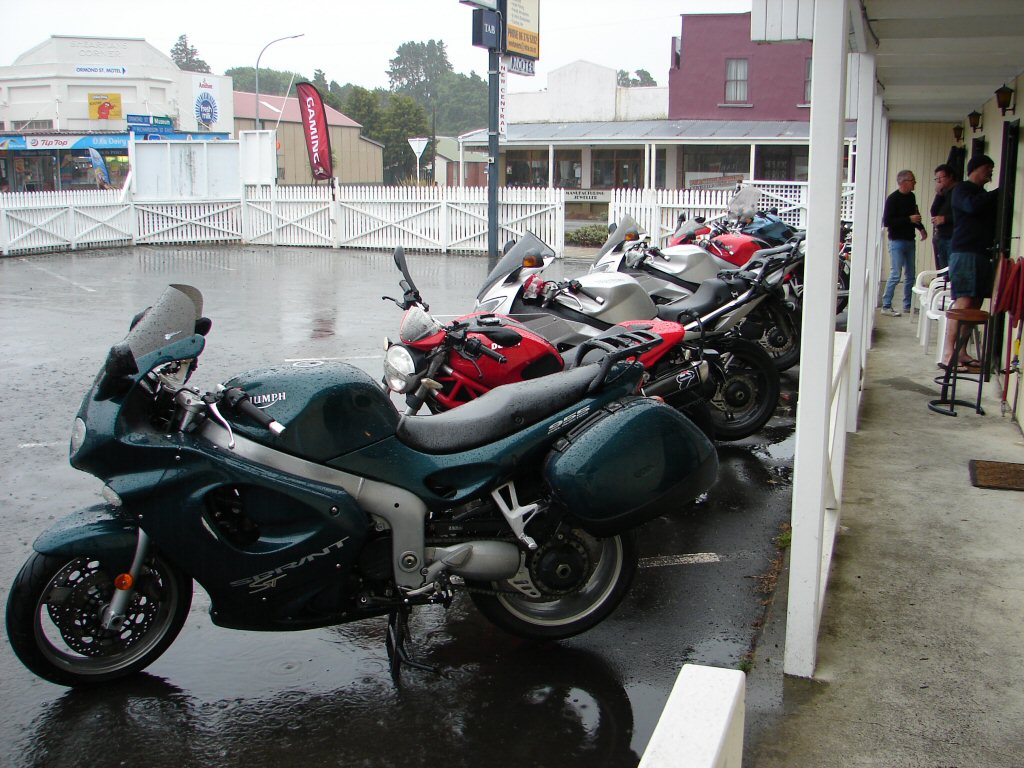 A deluge descended upon Woodville.
We had sized up a number of potential breakfast venues just along the main drag, so we checked them out and settled on a couple, which proved to be well worth our time, and rewarded us with exactly what we wanted.
We then wandered back to our verandah and broke out various forms of music and alcohol in order to pass the time.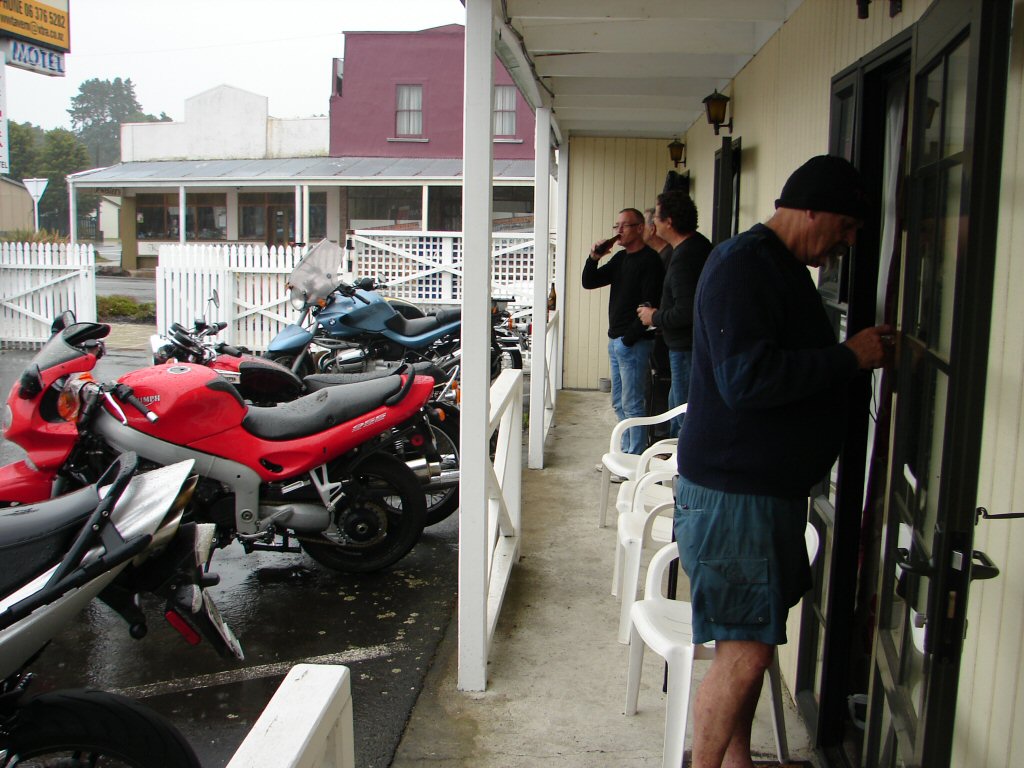 Mid-afternoon the sun reluctantly came out for long enough that we considered a ride would be in order. Because the rainfall had been significant we could not be sure if our intended back roads would be passable, as some are prone to flooding. Instead we would head north up SH2 to Dannevirke and see what happened.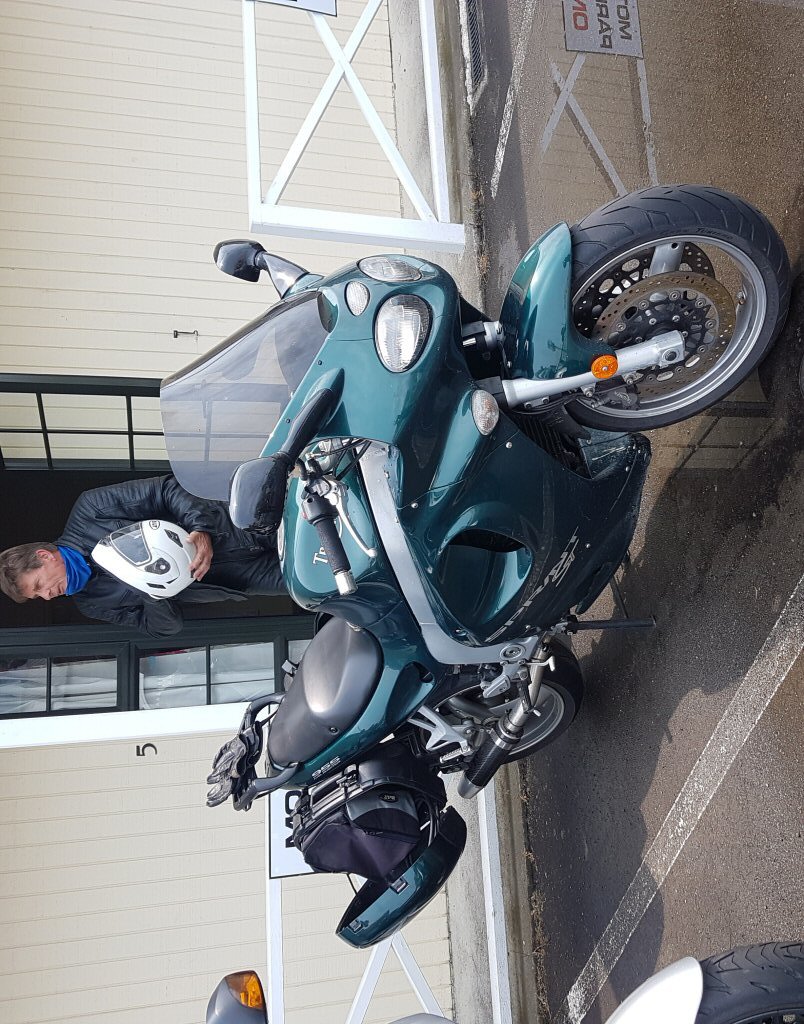 What happened was Dannevirke. Not much else seemed to be happening so we moved on to Waipukurau. This was to have been our furthest point north if all had gone to plan, and even though it had not, here we were anyway.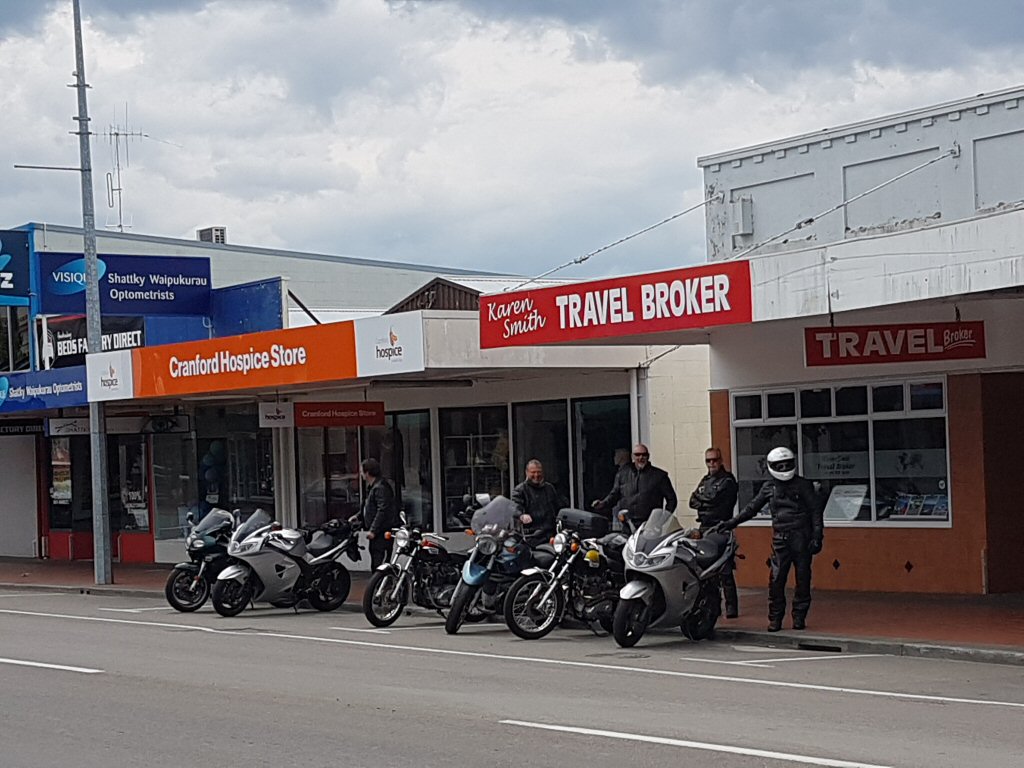 Various riders fuelled up here, and despite several laps of the centre of town we did not find any cafes or bars open that we could frequent. We did notice signs about a motorcycle event of some sort, but despite following them we were unable to locate the event. This and looming thunder clouds caused us to retreat back to Dannevirke where we found a delightful cafe with pies, so we paused there while they were consumed. The owners also treated us to free carrot cake, so we felt that the day had been somewhat elevated to more than a makeshift second guess.
Impending closing time and weather closing in made the decision for us that we should head back to our friendly verandah before all hell broke loose.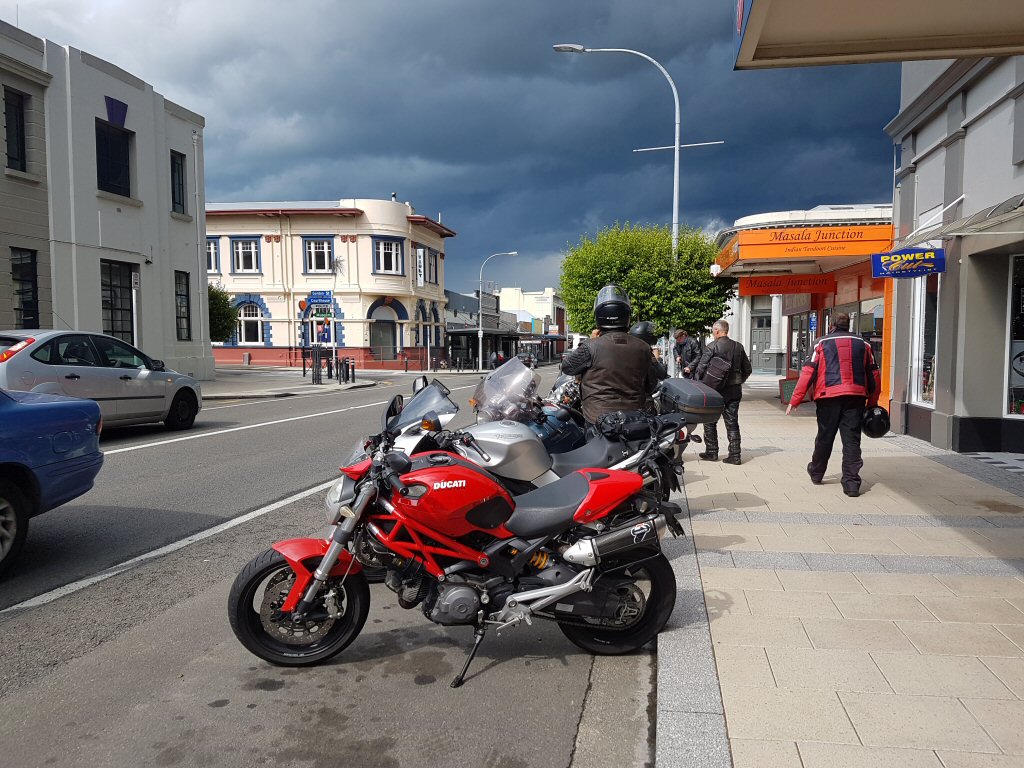 Pleasingly it did not, other than a couple of brief skirmishes with slippery road surfaces, and we all made it 'home' before the skies opened yet again and we continued our socialising under cover while the afternoon became evening.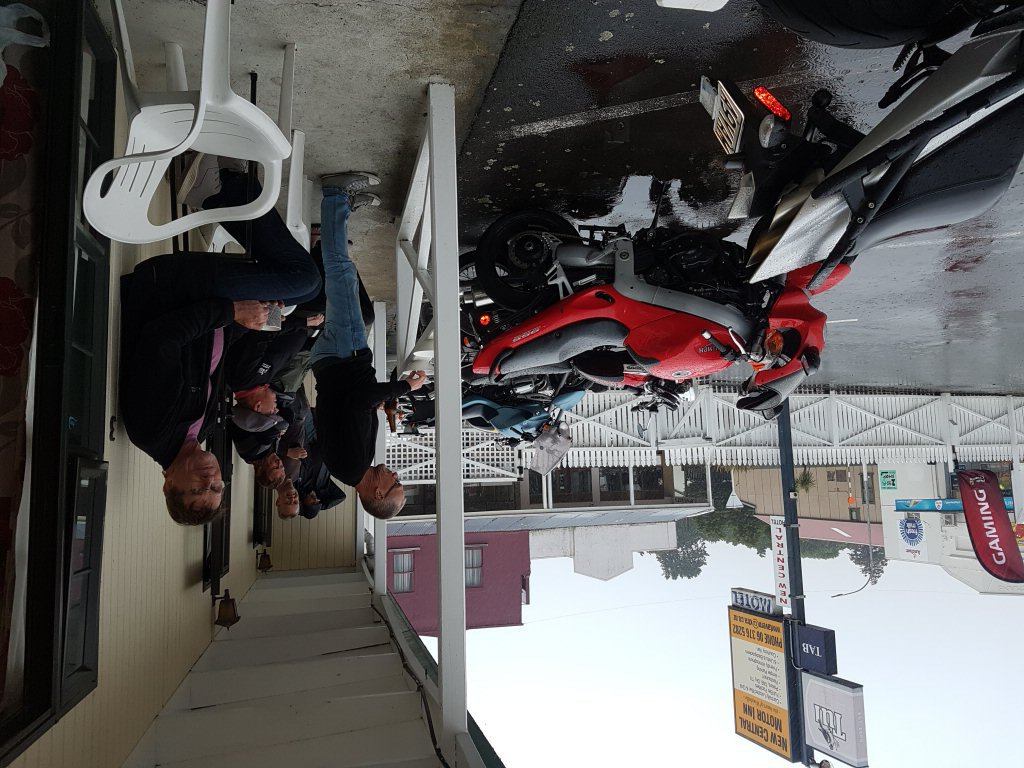 Despite our plans having been foiled, we had still managed a ride of sorts, over unfamiliar roads, had escaped the ravages of the weather, and also we had enjoyed the pleasure of each other for this time, so there were no unhappy souls here at all.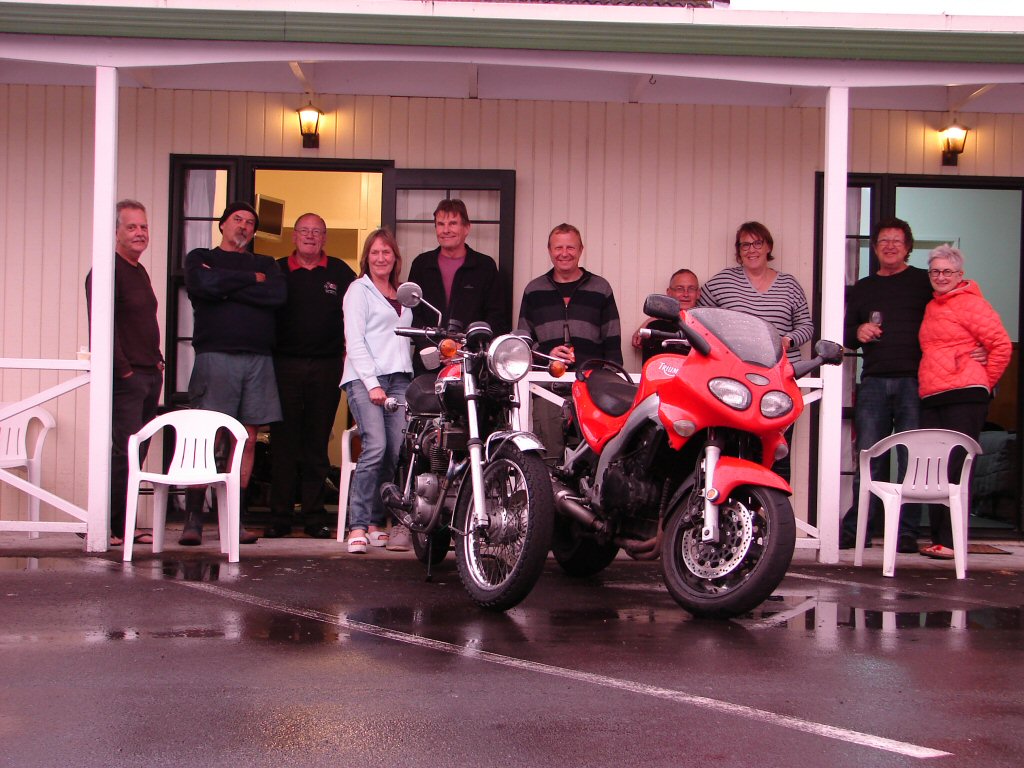 Our hosts just next door have been very gracious about any requests we have made, so we give them an unrestricted thumbs up. We like their neon presentation, especially in the wet..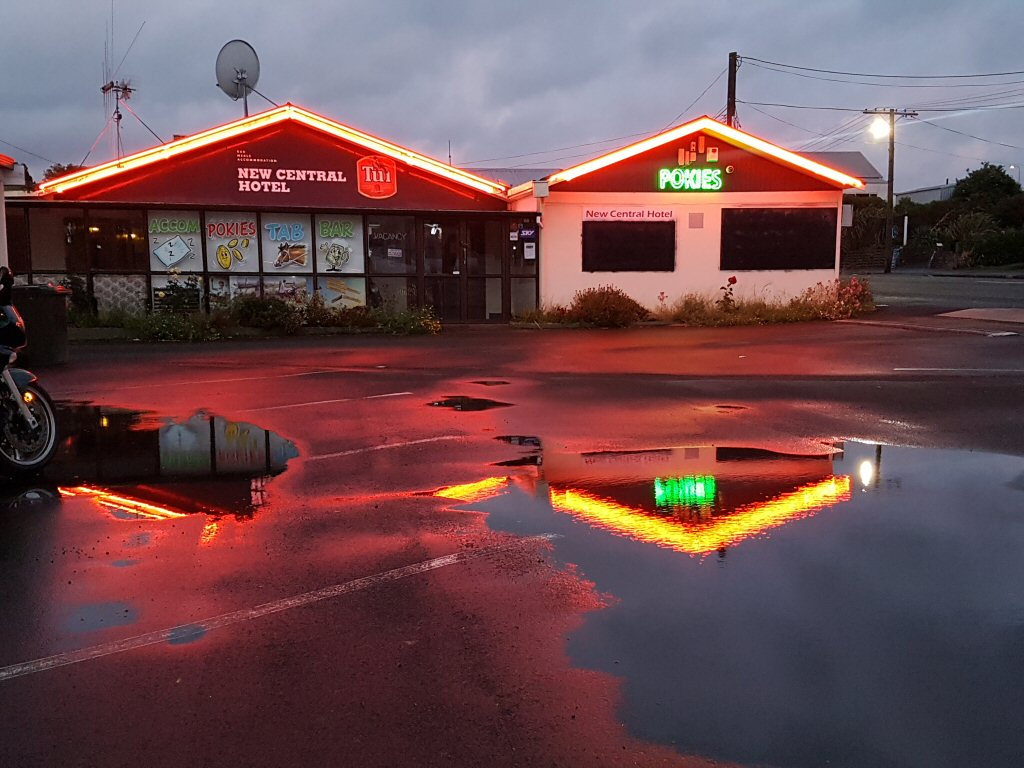 Even our grubby bike looks less shitty in the neon glow, but that rear tyre is beginning to feel most uncomfortable on anything other than flat surfaces.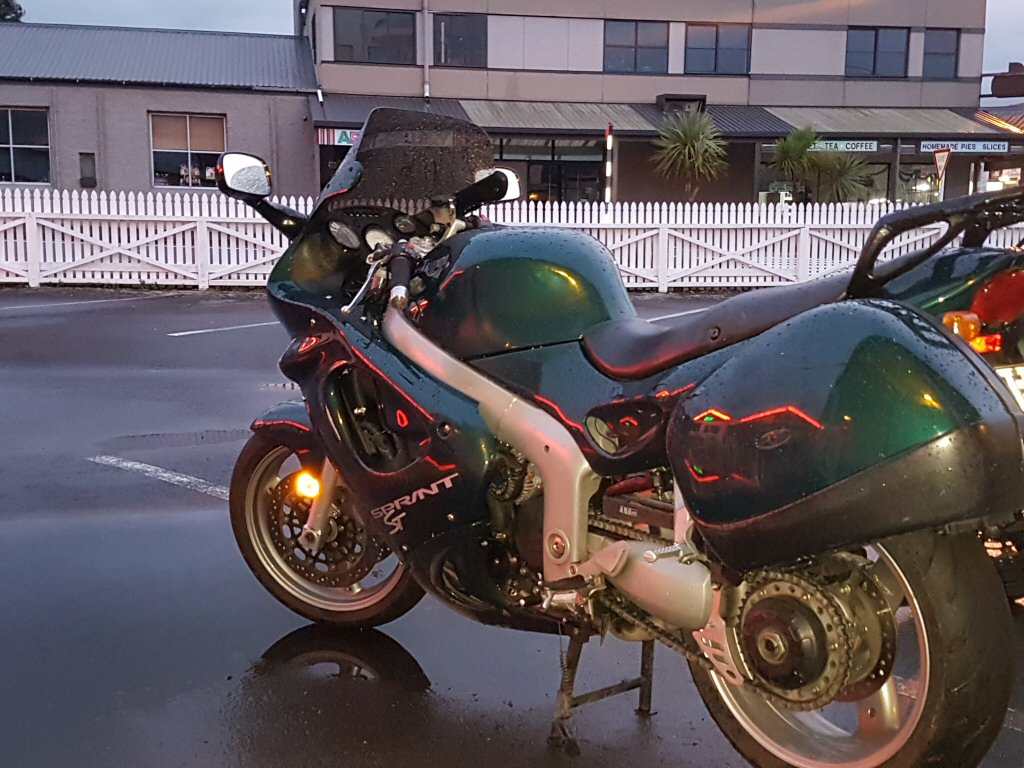 Morning of day 5. There was rain overnight but we wiped the bike seats down earlier and they were drying out fast. We headed down the street for breakfast and a last chance to socialise with everyone who had set out on this tour. It went well and we felt pretty ok about Woodville. In fact, the whole thing had been fun and a good opportunity to relax in each others company.
Back to our place and now everyone is packing stuff on their bikes and a couple have zipped down the road for gas. Always an air of anticipation when you have a days riding ahead. Going to be fun. Haha.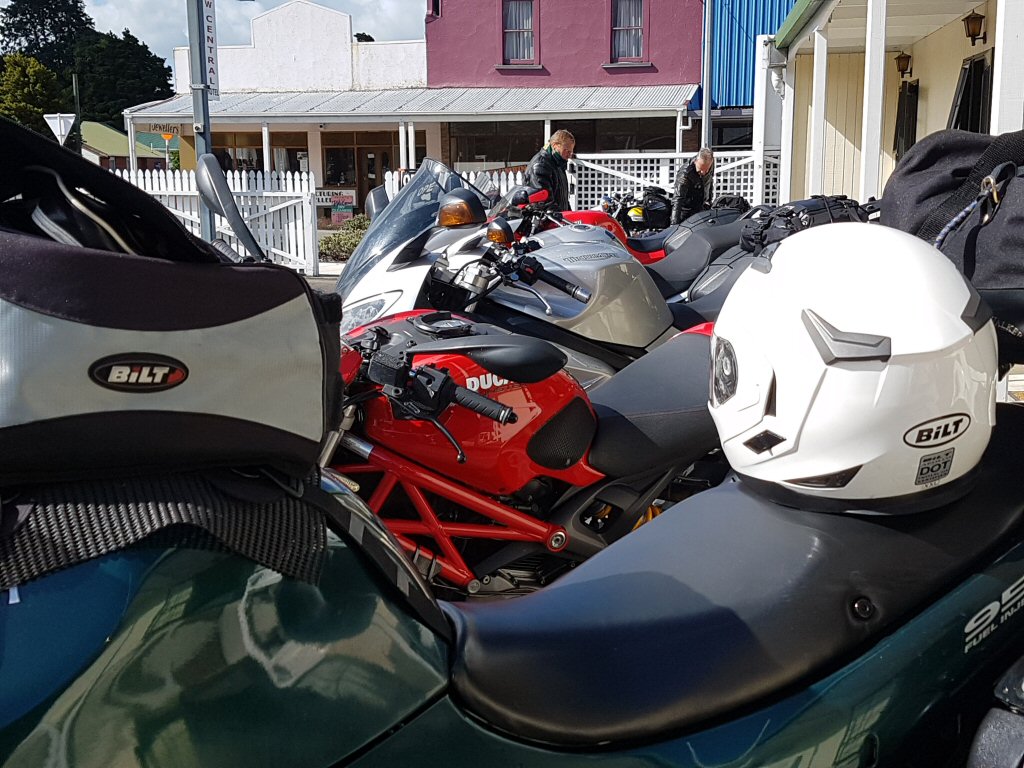 As was a part of the original plan, two things were going to happen. Richie was going to ride north to an arranged sale of his bike - which he was less happy about having enjoyed it very much for these last few days. The second was that we would be riding another of our back road sections that would begin at Pahiatua and end in the outskirts of Masterton. Cool stuff.
We headed down SH2 to Pahiatua and found our turnoff point. From there we headed out into nomansland, which began to look rather familiar as it was the return route by which we had originally come. However, they all look different when riding the other way, so while I found the turns that we had previously made, there was a tee junction that failed to materialise. The road was just fine so we carried on anyway, and suddenly we were at Eketahuna.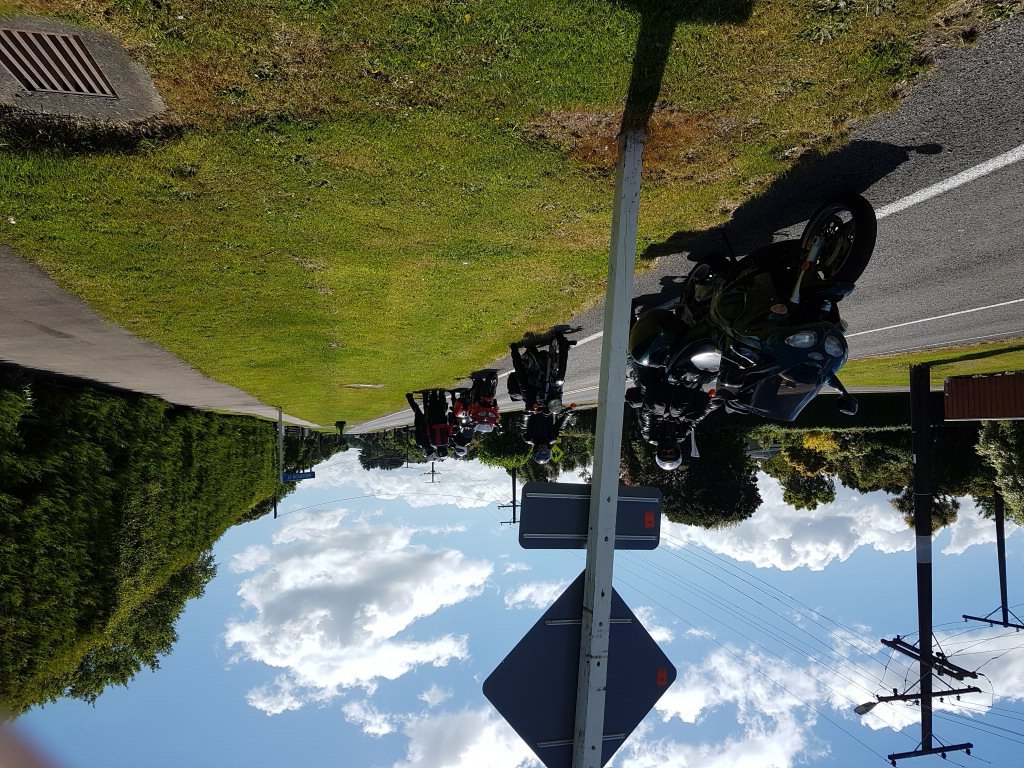 Eketahuna was not actually meant to happen, so I pulled up and stopped the group and announced that particular fact. It hardly mattered. When you are somewhere, you simply are. The real question is - where do we go next? As we were within a stones throw of the main highway that seemed to suggest itself as the best course of action, so we did that and whizzed down to Masterton, where we fuelled firstly the bikes, and then ourselves.
From here we had a new plan suggested by the biker we met at the Gladstone Inn, and we found the entry point with no problems. This wonderful road led us up through the hills and around the back of some fabulous elevated rural scenery way behind Carterton, until we overshot a turn that mentioned Gladstone, so we made a u turn at the next junction and backtracked a mile or so to make the turn. After that we swooped and climbed until dropping down to the road we had followed several days ago to Masterton.
Now we headed back towards Martinborough on the Homebush/Longbush road, and had a great dice with a road that kept changing from easy straights to difficult bends, with narrow strips thrown in, plus a dashing finish where we swept out of the bush and straight into a T junction.
We nearly had a couple of extra pillions.
We paused here for mere seconds until everyone had arrived, then cruised down to Martinborough to find the best carparks were taken, but the space we had used on the way up was not, so we did it again.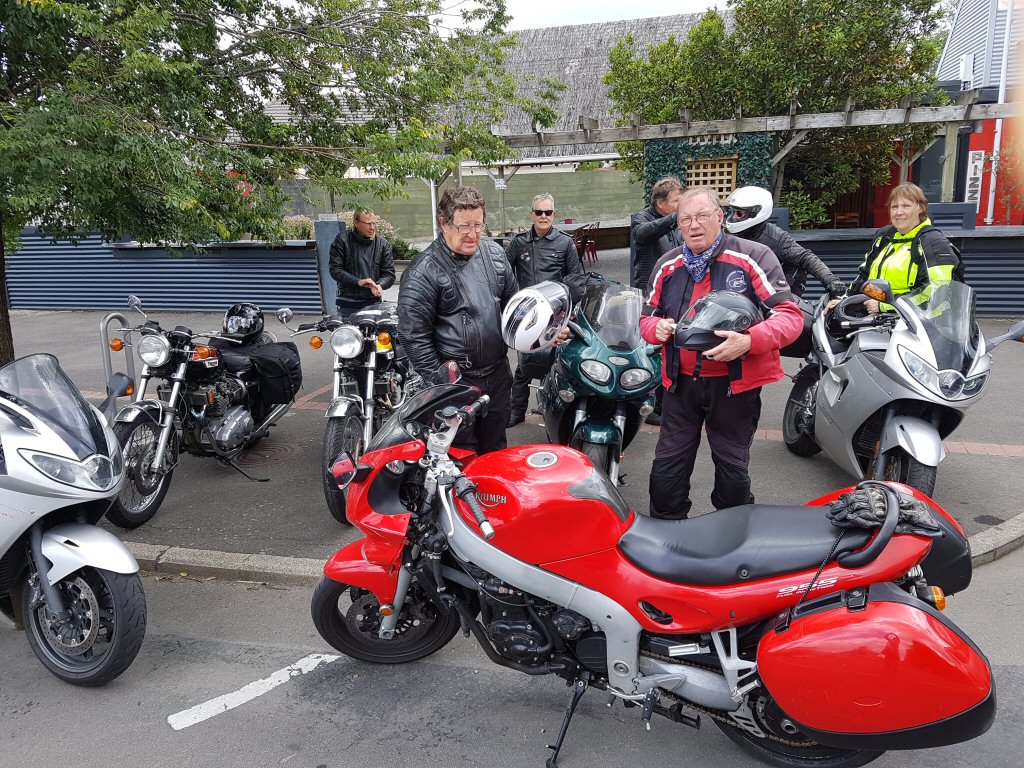 We had a drink here with a wary eye on the rain clouds which were skirting the near horizon. We now only had to skip over the Rimutakas and slide down the motorway and we would be in the Top 10 camp again for the night. That would also allow for some social time which was going to be a barbecue, and a local friend whom we had ridden with on a previous trip would join us.
The weather was mostly agreeable, and a light shower on the way up the hills eased off almost as soon as it started. I began to think we had a charmed path. On the far side though the heavens opened for a time, and as we all felt the water reaching parts of us we would rather it didn't, the whole thing buggered off and we were back in sunshine. Weird weather.
We made the camp nearly dry again. The keys were all handed over and we were back in familiar territory. After that we raided various supermarkets and liquor outlets and the fun was good to go.
The group settled in for a few primers as the barbie hotted up.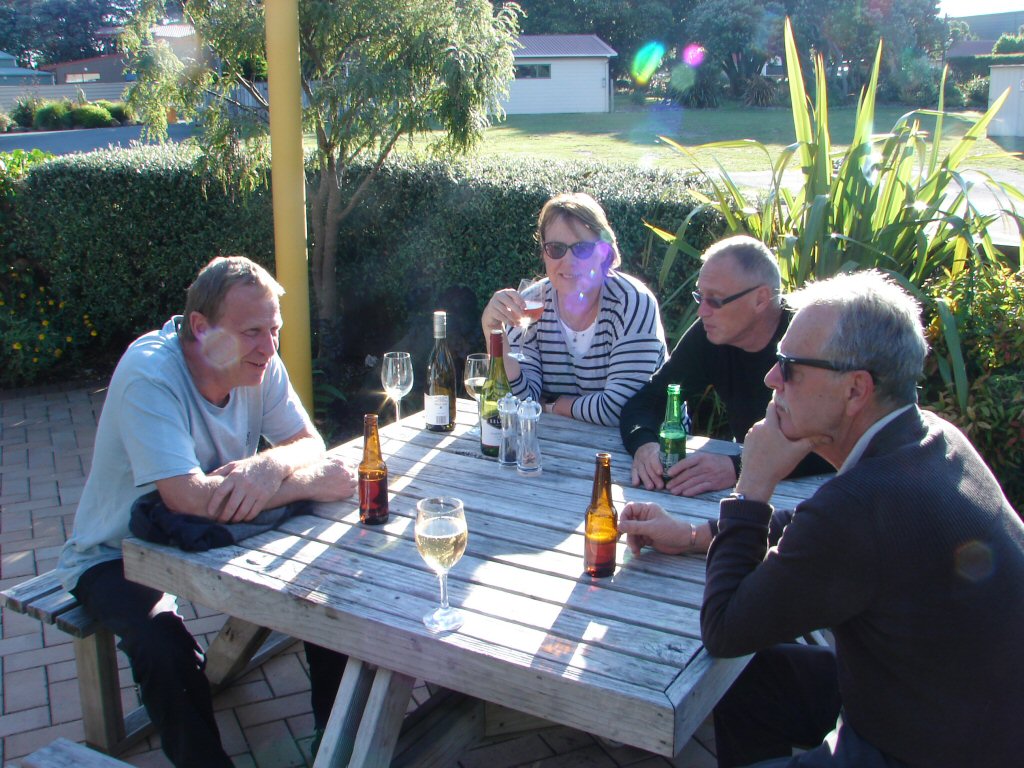 Thomas coerced the various meats into a digestible form and Mary arrived with salads. It all came together in a grand fashion, so we felt as though our last night together had been suitably celebrated.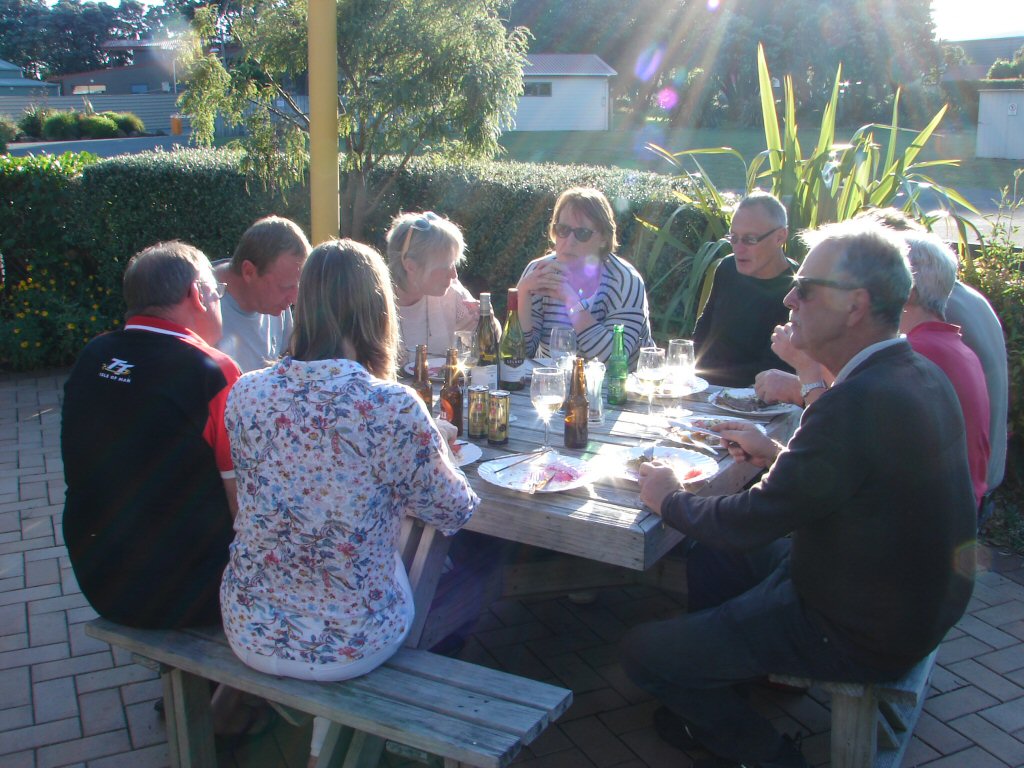 That was our final night together, and we had an early appointment with a ferry next day. We discussed the necessary timing, considering that we needed to be at the ferry terminal at 7.45, and figured we could easily make it from here in 45 minutes. Wrong.
As it happened everyone was ready for the off somewhat earlier so we hit the road. Once again the Lower Hutt waterfront was slowed to a crawl, and we shuffled along for nearly the entire stretch before a gradual bleed onto the motorway. Once we had picked up a bit of speed we were not slowed much again and finally joined the checkin queue at nearly spot-on 7.45 where we were ushered through in no time at all and waited up with a few other bikes who were doing the same thing.
We got directed aboard some time later, and lashed our machines down with ropes that were supplied this time. We then wandered upstairs and took over a block of seats for the duration of the trip.
We looked like the people you didn't mess with..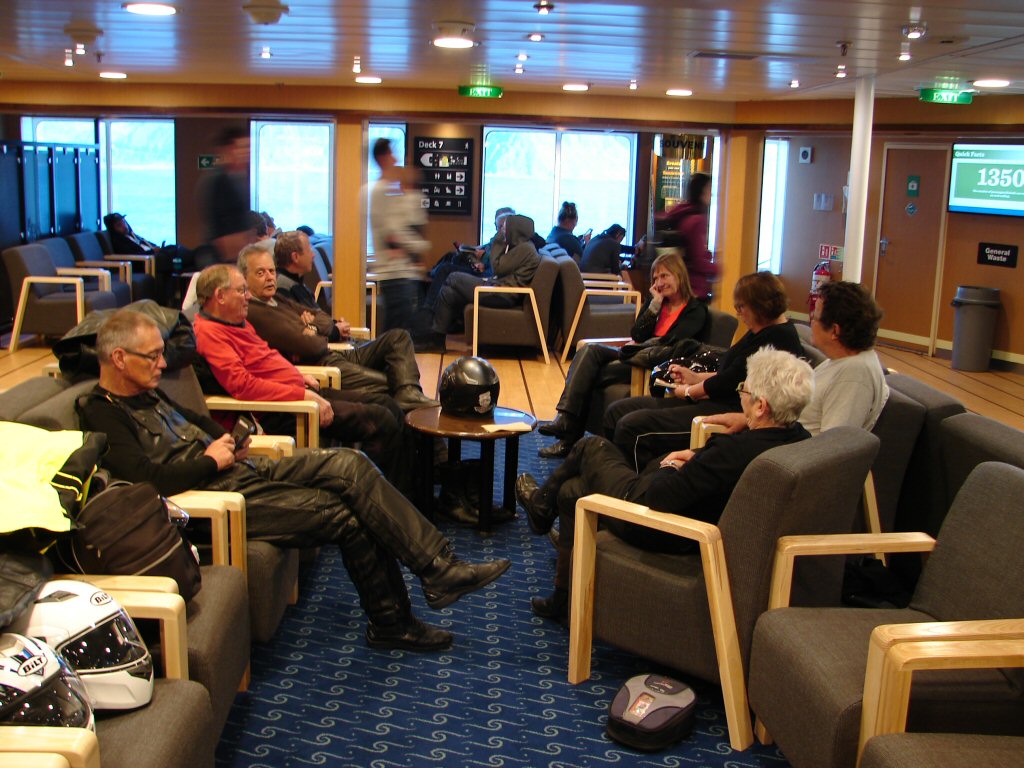 It was the smoothest crossing you ever saw, which allows you to completely relax about the ability of those ropes to restrain your precious cargo.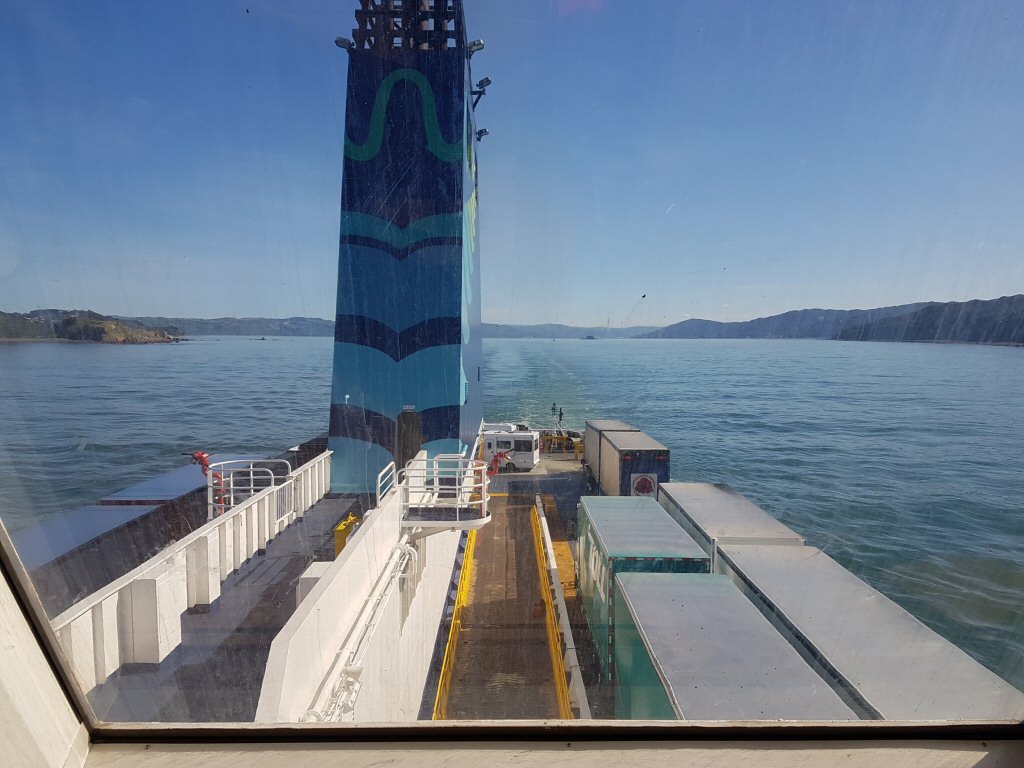 So Picton showed up and we all rode off. Two for Nelson, two for Blenheim, and five for Christchurch. We said our final goodbyes at the gas stop in Picton then hit the road. We five had the longest route to travel, and were keen to get the bulk of the roadworks behind us as soon as we could. It took quite a while to do that, but we finally made Kaikoura and stopped for our final coffees together.
That done we hit the road again, and with very few interruptions we covered the last 120 miles in respectable time, peeling off as we reached the outskirts of Christchurch.
It is kinda sad when it is all coming to an end, but of course we have subsequently gotten together and had the post mortems. General conscensus is that it worked well, the roads were well worth our attention, and perhaps shall be again in future. The places we stayed were fun and the whole thing ran with very few hiccups - the main one being the weather - but at least we were able to be flexible and make the most of what we could.
Cool stuff.
Great people.
Thanks to all.